Remodeling your kitchen involves major changes, such as updating appliances, cabinets, and countertops. If you want to get to the very essence and core of your kitchen, it would be best for you to rethink the whole design layout. To see it as your dream kitchen, you may have to overhaul the whole layout. For such an important project, you need to buy luxury kitchen tiles from us at Amirian Home. Below are some samples and ideas for you to work with, but ultimately, our tiles are what brings each of these styles together.
One-Wall Kitchen
Many kitchens today have appliances, countertops, and cabinets positioned along a single wall. This is a classic kitchen layout known as a one-wall kitchen. Surprisingly, one-wall kitchens can work well for both tiny kitchens and those with extremely large spaces. Such a concept allows maximum openness and unimpeded flow of traffic as there aren't any barriers within the space of the kitchen. This is perhaps one of the easiest layouts to plan, design, and create.
L-Shaped Kitchen
Next, we have the L-shaped kitchen where the cabinets flow around one corner against two adjacent walls. This design is ideal for kitchens that open to the other rooms of the house. Placing the kitchen in one corner of the house is a practical idea, especially if the living room is a single open space. Most often, L-shaped kitchens would always include an island. This allows much more open space for you to work with. Another purpose of an island is to separate the kitchen from the rooms next to it to give a sense of openness. Visit our Glendale showroom to see samples of this classic kitchen layout and more.
Galley Kitchen
If you have limited space for your kitchen, this kitchen layout would be ideal for you. Also called the walk-through kitchen, it's characterized by two opposite walls or two countertops parallel with each other, and a walkway space between. The design of a galley kitchen allows you to make use of the entire space. There aren't any cumbersome corner cabinets for you to configure that can also take a chunk of your cabinetry space.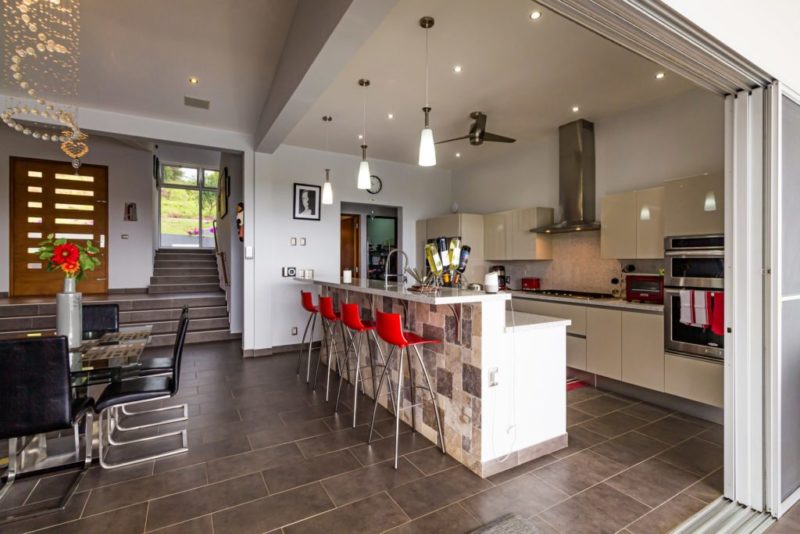 U-Shaped Kitchen
The U-shaped kitchen is very popular in many homes. You can think of the design as a plan with a corridor shape with one of the end walls having kitchen services or countertops. You leave the other wall open as it serves as the access point. This layout offers a good workflow through its classic kitchen layout. All of the three end walls can provide a lot of space for your extra cabinets.
Peninsula Kitchen
This kitchen layout is a connected island that converts an L-shaped kitchen into the shape of a horseshoe. Another way of looking at it is to turn a horseshoe layout into a G-shaped layout. Peninsula kitchens function like islands although they provide more clearance in the room without allowing enough space for a true island.
Contact us for your classic kitchen layout
Whichever layout you choose, make sure that it's appropriate for your lifestyle and approach to cooking. If you need any assistance in creating the perfect layout for your dream kitchen, contact us at Amirian Homes. You can visit our website to check out what we have to offer in terms of kitchen layouts and choose the best one that suits your requirement. You need all the help you can get because having your dream kitchen isn't always easy.