Bathroom vanity isn't just used to boost the appeal of your bathroom. It plays a vital role in any house. Keep in mind that you take a lot of time for yourself when you're in a bathroom. Every day, a basic level of self-care happens in this area of your house. This is where a good bathroom vanity becomes useful. It includes a storage cabinet that is placed under a mirror or sink. If you are not sure how to spruce up your bathroom with vanities, then continue reading to know more.
1.)
Conventional
Bathroom Vanity
For a modern bathroom, wooden vanity is a classic choice. The warm color and structure of the wooden cabinets will make the room look retro. This is especially true if you choose a vanity with legs. They prevent the water from accumulating in your cabinet. Make sure to add lamps and orange towel hangers for a better design.
2.) Sleek, Curvy Design
If you want a sleek combo, you can combine a petite sink, a backlit mirror, a glamorous vanity, and a curvy modern cabinet. Opt for a dark-colored cabinet if you have white bathroom walls. Choose a vanity that occupies minimal space. This is vital if you have a small bathroom. But it can also work if you have a larger room.
3.) Minimalist Look
More homeowners now are choosing to have a minimalist house. A minimalist bathroom vanity emphasizes function, instead of a decorative one. Despite the minimalist look, choose a variety that makes the aesthetic shine through. To achieve it, you can choose a vanity drawer that floats. Then, install a rectangular mirror with a medicine cabinet.
4.) Choose Pastel Color
Pastel colors can have a fun vibe. Choose white tiling as the top for a clean look. The white tiles also spell retro. The pastel bathroom vanity can break the monotony. Thanks to the fresh color of the pastel. But make sure that the cabinet is also functional that can provide a great deal of storage for any of your bathroom essentials.
5.) Spa-Inspired
When it comes to bathroom vanity designs, you can always think out of the box. And if you wish your bathroom to look like a spa, you can definitely achieve it. You may choose a low-height bathroom vanity. The high and low surfaces will give you ample space for storage. Then, add some seats so you can have a moment of peace. Choose a contemporary design that takes inspiration from geometry. This is also an easy option if you want the vanity to stand out.
6.) Patterned Background
You can also make your vanity have patterned tiles. It's ideal for a small bathroom. But you can experiment a bit to find the right pattern and texture.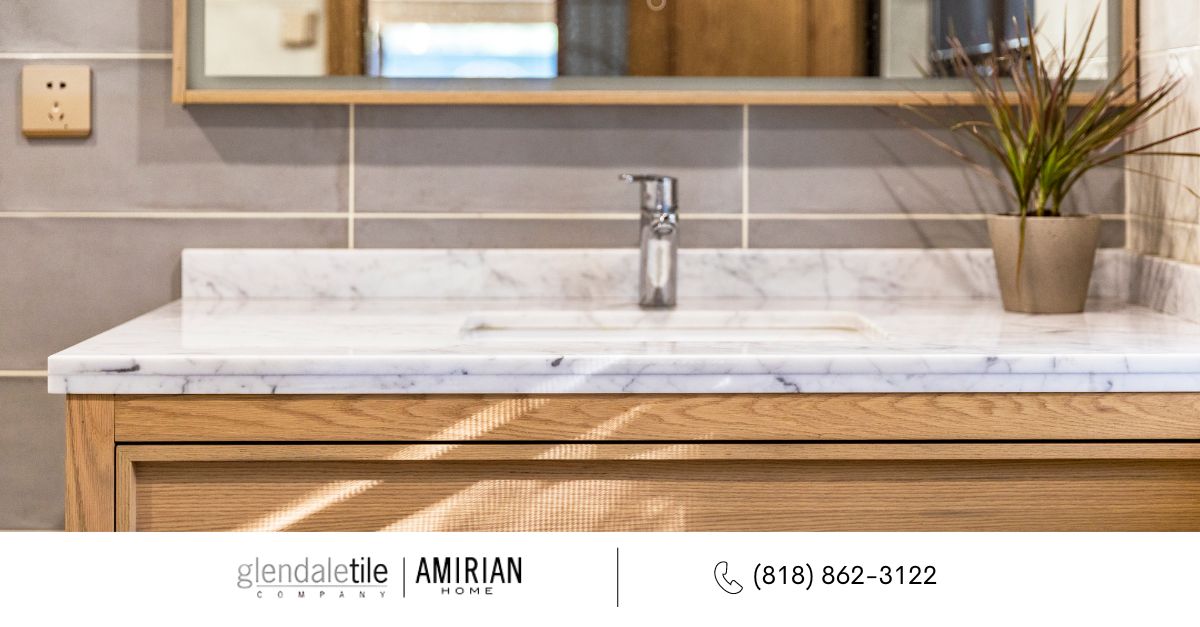 Find Luxury Vanity Designs
A classy bathroom needs a classy design. If you need more tricks to ensure that your bathroom vanity screams luxury, then make sure to visit our showroom in Glendale. Or talk to our designers today for more tips and pieces of advice. Call us here: (818) 862-3122.