At our showrooms, you can find a kitchen tile that absolutely fits all of your specific needs. That being said, kitchen tile isn't exactly the kind of thing that a person shops for on a day to day basis. Most have some idea as to what they need from kitchen tile but aren't sure about the specifics. At our kitchen tile store in Glendale, we can help you to find a kitchen tile that does everything you could need a kitchen tile to do.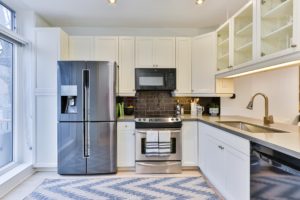 Durable Kitchen Tile
As mentioned, buying kitchen tile can't be the kind of thing you do often, or even on a year to year basis. You get kitchen tile, you want it to last. That's what we offer. You can find kinds of kitchen tiles that will last for years to come. Few areas of your home will have as much foot traffic as your kitchen. Think about it: every meal, every day, one or more people will walk into your kitchen. All of the trips to and from the store, all of the times you bring in food from the outside, you'll walk through your kitchen. Whether you're single or have a big family (or anything in between) we can find you a durable kitchen tile.
Resistant to Stains and Easy to Clean
It's the kitchen, so stains are going to happen. Drops. Spills. Messes. If you have kids, particularly small ones, multiply that a hundredfold. Our kitchen tile can take the spill and make it easy to clean. Indeed, that's what separates kitchen tile from so many other forms of flooring – ease of cleaning. Instead of letting liquids and other substances seep in, tile keeps it out. That way, with minimal effort, you can clean it up thoroughly, making it look and feel as good as new.
Saving Money Over Time
Other forms of kitchen flooring will inevitably let you down. All kitchen flooring will eventually have to be replaced. But, the other forms of flooring will have to be replaced sooner. So, when you're calculating how much the flooring is going to cost, you have to factor that in too. With that in mind, tile flooring is a clear money-saving option. Beyond simply being easier on your bank account, it's easier on the environment, too. Tile is an ecologically-friendly choice, from the way it's made through the way it's cleaned. You don't have to use chemicals to clean it; you can get by with just soap and water.
Bathroom and Kitchen Tile Store in Glendale
You don't have to settle when it comes to how your kitchen and bathroom look. When looking at what other places offer in terms of tile options, they have but so much available. At our facility, you can find an extensive, deep collection. There's something to fit your style as well as your life. Our trained, experienced staff is on hand to answer your questions at: (818) 500-8505.