Having a pool is exciting, particularly when you get to design it from scratch. After all, it's a whole new blank canvas on which you can further design your space. With the help of our outdoor tile showroom in Glendale, you can find the right tiles for you to define the look of your pool. There are plenty of different materials that will work when it comes to pool tiling, each of which caters to a different aesthetic approach. Here are a few of the most common options.
Glass Pool Tiles
Glass tiles are often the most popular choice when it comes to pool tiles, particularly the waterline tiles just below the pool border. The reason behind this is mostly their striking color upon receiving sunlight. The reflection of the tiles mirrors the movement of the water, making for an almost hypnotic effect that gives color and personality to a pool. However, it is worth noting that glass tiles do tend to be more expensive and labor-intensive at the time of installation.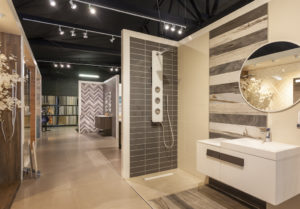 Stone Pool Tiles
While there's something classic about glass pool tiles, there is something undeniably upscale about stone ones. Evoking the image of ancient pools in villas or tropical escapades, stone pool tiles give off a very rustic and natural look. This doesn't mean that the look has to be rugged or rough. Travertine tiles, for example, are soft while retaining the organic look of stone. However, these are good for chlorine pools and not saltwater ones, for the tiles can be damaged by saltwater.
Porcelain Pool Tiles
Porcelain tiles are the most common choice for pools given the material's density and strength. These are strong enough to be exposed to water and other outdoor elements while also being able to remain submerged without suffering any damage or requiring additional upkeep. Porcelain tiles are very easy to install as well, which makes them the most budget-friendly option at the time of tiling your pools. This is ultimately what makes it the most common choice.
Mosaic Pool Tiles
Okay, so what if you want to combine the best of some (or all) of these materials. In that case, mosaics are an option to look into. Mosaics are combinations of different colors, sizes, designs, and even types of tiles. The results are beautiful patterns that create uniquely colorful tile designs for your pool. Mosaics allow you to play with color and style in order to create your own pool design, making this a very attractive choice. Our outdoor tile showroom in Glendale will have plenty of different choices for you to consider.
Visit Our Outdoor Tile Showroom in Glendale
Here at Amirian Home, we are set on giving you the best tile flooring in Glendale for your home. Regardless of the approach you want for your pool, we are here to provide you with the right material and design for your needs. You can browse our online catalog to find the tile you are looking for or call us at (818) 500-8505 for more information.