Wall tile isn't necessarily the first thing you think of when you approach the matter of decorating or redoing your kitchen. After all, how many times do you actually think of having tiles on the walls of the room? See, you don't until you realize just how good this can look. In reality, wall tiles elevate the general decor and round up other styling choices. But, how should you approach the application of this tile? Here are a few different ways for you to do so.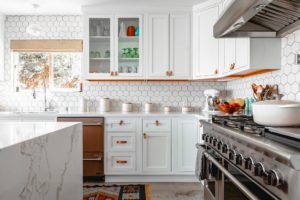 Full Tile Coverage
An interesting way to approach decorating your kitchen is to implement full tile coverage, which consists of using the same tile design to cover the floor, island, counters, and backsplash. In concept, this might seem like a lot. After all, wouldn't that much of the same color, texture, and look become overwhelming? Well, in practice, this approach can actually result in very clean and tasteful surfaces, giving the kitchen a very consistent and elegant look. The deciding factors will ultimately be the chosen matte, texture, and color. It will be the right combination of these characteristics that ultimately determine whether this is the right look for your kitchen. When well implemented, this can easily heighten the look of your kitchen space.
Tile Stripes
Sometimes, the backsplash of your kitchen doesn't have to be excessive or extensive. If anything, it can act as more of a splash of color or design detail than as a whole backdrop. When some people wish to use backsplash as an accent, they tend to opt for more subtle stripes of color tile over either the kitchen wall or other tiles that blend in with the color of the wall. With the right pattern and color choice, tile stripes can be beautiful ways of retouching the decoration of your kitchen, giving you an outlet for you to give it a particular personality and style. It's always good to think out of the box at the time of decorating your kitchen.
Counter to Ceiling Wall Tile
Some people use this kitchen tile solely as backsplash between the countertops and the upper cabinets or ventilation appliances. Other people, particularly those without said storage or other wall fixtures in their kitchen, fully cover the walls with tile from the countertop to the ceiling. This can give your kitchen a very unique and even vintage look. The subway tile approach, for example, can simulate the feeling of exposed brick with a particular tile color and texture. This can be a very appealing look, for it shows off the kitchen's coziness and cleanliness while remaining distinct and stylish. You only need to open just about any home decor magazine to see just how popular and sophisticated this unique look can be.
Kitchen Wall Tile
At Amirian Home, we are determined to match you with the ideal wall tile design for your kitchen. Regardless of the way you want to apply the tile design, we are here to provide you with the right one for you. You can browse our online catalog to find the tile you are looking for or call us at (818) 500-8505 for more information.