Tiling a room, like any aspect of home decorating, is as exciting as it is delicate. Flooring, after all, is equal parts function and aesthetics, so it will be important to take into account certain factors beyond just the way the tile looks. Here are a few questions you should ask yourself if you are looking for tile flooring in Glendale.
Indoors or Outdoors?
When looking for tile flooring in Glendale, the first thing you need to ask yourself is whether these tiles are going to be indoors or outdoors. After all, not all tiles are made to withstand sun exposure, outdoor humidity, or harsh temperature changes. If you are looking for tiles for, say, a patio, then you need to make sure that these tiles won't absorb humidity that might later crack the tiles when temperatures plummet. At the same time, you need to consider whether the color and patterns will be able to survive underneath constant sunlight. It's always important to communicate where you intend the tiles to go before settling on a specific style or pattern.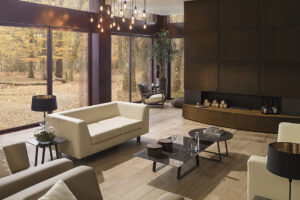 Barefoot or Shoe Traffic?
You might not think about this at first, but the kind of foot traffic that your tiles will see is very important to determine what material you should choose. Bathrooms, for example, will mostly see shoe-less foot traffic, meaning that more delicate tiles such as porcelain are an option. Kitchens, on the other hand, will see a lot of shoe traffic, meaning that harder materials such as stone are a great call to protect the flooring. You don't want to invest in flooring that will give out after a year or so, especially since tile flooring isn't cheap. To avoid putting more strain than you should on your tile flooring, take into account how much and what kind of foot traffic it will be seeing.
Humid or Dry?
The environment that your tile flooring will be subjected to will be very important, and we are not only talking about the weather. Like previously established, if you are tiling an outdoor space then you will definitely need to take into account humidity and absorption, but these will also be important when tiling, say, a shower. You don't want the tiles to be too slippery, but you also don't want them to absorb too much humidity and create mold problems. Humid environments make it very important to find a good balance to avoid damaging the tiles. Showers, bathrooms, laundry rooms, and, to a certain extent, kitchens will all have some degree of humidity to consider when looking for tile flooring in Glendale.
Tile Flooring in Glendale
As you can see, picking the right tile flooring in Glendale can be challenging given the different factors one needs to consider, and that's without even taking into account the aesthetic aspect. This is why you should have the right help throughout the process and we at Amirian Home and Glendale Tile can help you with that. We are determined to match you with the ideal ties for your home and to provide you with the right tiles for your needs. You can browse our online catalog to find the tile you are looking for or call us at (818) 500-8505 for more information.