Your kitchen is one of the rooms in your house that can have different types of tiles. But no matter what type of tile you choose, make sure that they enhance your kitchen beautifully. It's one reason choosing luxury kitchen tiles can be ideal for any situation. However, there are things to keep in mind when shopping for tiles.
Determine Where the Luxury Kitchen Tiles Will be Installed
Kitchen tiles can be installed anywhere in the kitchen, like the countertops, walls, or floors. You can place the tiles as a backsplash behind a stove or underside of the upper cabinets. When you visit our showroom, you will find several design ideas about where to install the tiles and what style to choose.
Know the Type of Tile to Use
A tile can refer to a material that can be installed in rows over a surface. For your kitchen, you can install stone, vinyl, ceramic, porcelain, and glass tiles, among other options. But the most commonly used tiles in this room are cork, vinyl, and bamboo tiles. Porcelanosa and quarry are ideal for counters and floors. For walls and backsplashes, glass tile is the most common option.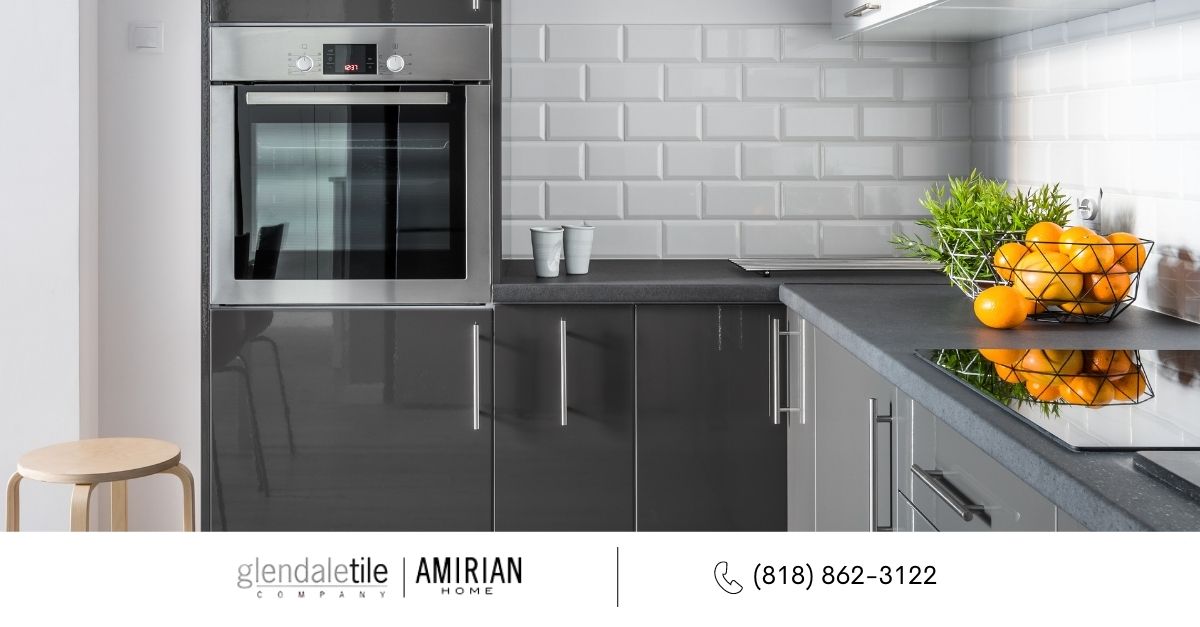 Choose Tiles According to Your Budget
Luxury tiles can be expensive. Thus, before you buy, make sure you do your homework. Keep in mind that once the tiles are installed, they are difficult to uninstall, unless you renovate your house every year or every few months.
According to HomeAdvisor, "Generally, you'll pay about $15 to $20 per square foot for the materials and installation. The average is $1,500 for a backsplash and $3,500 for a countertop. That includes a typical $5 to $10 per square foot for the tile and $4 to $14 per square foot for a pro to do the work. Most homeowners spend between $885 and $2,996 or an average of $1,932 to install porcelain or ceramic tile flooring. For all tile projects, the costs range from $13.50 to $83 per square foot."
Consider Your Lifestyle
Even though kitchen tiles are resilient, they still need regular upkeep. If you have a busy lifestyle, choose tiles that are easy to maintain. Ceramic tile, for instance, is easy to clean and maintain. Make sure to choose a tile finish that matches your family's lifestyle.
Be Able to Withstand Family Habits
Floor tiles are durable. But one type is more durable than the other. Thus, make sure to choose tiles that can withstand heavy traffic, spilled foods, and cleaning supplies. Then, if you have pets at home, opt for tiles that can endure scratches.
Talk to an Expert
It can be difficult to choose the right tiles without first talking to an expert. When you visit our showroom, you will find different luxury kitchen tiles that you can install in your home. Our tile expert will guide you on what to choose based on the criteria above. Call us if you need more information about our showroom: (818) 862-3122.