What holds your kitchen together? Yes, the appliances that allow for its functions, the countertops on which you get your cooking done, and obviously the kitchenware with which you do everything. But wait, where do you keep all that stuff? Well, in kitchen cabinets, of course. Not only are these vital in order to store everything in your kitchen, but they are also key aspects of the decor and aesthetics. In the end, you will probably want to put some thought into picking your cabinets. Here are a few of the interesting options that we have for you here at Amirian Home.
Open Storage
For the longest time, the emphasis in kitchen decorating has always been in concealing everything stored in cabinets. After all, you don't want to go through the trouble of keeping everything in your cabinets organized all the time. However, recently there has been a dip into exploring other forms of kitchen organization, which has given way to open cabinets. While these might seem like a headache to deal with, they can actually contribute to a much more organized kitchen environment. It focuses on minimalism rather than in clutter, so you can minimize the amount of commonly used kitchenware and maintain all of it in tidy open cabinets. This might seem like an unorthodox approach to kitchen cabinets, but don't dismiss it outright.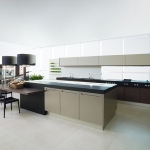 Below the Counter Only
You're probably used to having access to kitchen cabinets above and under the counters. This makes for good use of space, after all, since there's nothing else that could go under the counters and the area above is freed up for additional use. Bare walls are a blank canvas when it comes to kitchens. Whether you want to put up a nice tile backsplash, set up wall decoration, or think out of the box, you can give your kitchen a lot of personality by avoiding the use of upper cabinets. What about all your stuff, you say? Where are you supposed to keep it? Well, easy! Bare walls can give you the perfect opportunity to hang up some of your kitchenware. Think of that wall that Julia Child had on her kitchen with all her pots and pans hanging up. It's a cook's dream!
Kitchen Cabinets that Match Your Style
At the end of the day, the positioning or distribution of cabinets won't even matter as much as the style you approach them with. Cabinets cover, in most cases, the bulk of the wall space in kitchens, which is why they are such defining attributes of the style of the room. They will be your opportunity to define the color and texture of your kitchen, so it will be good to have plenty of options to work off when establishing what you want. That's what we want to give you here at Amirian Home. Our catalog has all sorts of enticing options for you to create the kitchen space that you like. You can browse our online catalog to find the kitchen cabinets that you are looking for or call us at (818) 500-8505 for more information.