Creating a well-planned backyard is important because you will have a place to relax when the weather is favorable. It also adds value to your house and provides a place for you or your family to play. If you are creating a new backyard, there will be several things to consider like landscaping, drainage, walkway, gazebo, lighting, and water supply. You may decide to include grass only, flowers, vegetables, trees, or a mix of everything. A professionally made backyard will look attractive. For the best backyard pavers, Tile Flooring in Glendale will offer the best solution.
Plan your landscape and walkways well
A beautiful backyard should drain water easily away from your house to avoid too much water into your house foundation. You can do DIY or get a professional to help you design the landscape. The walkway should be wide enough to allow easy access from your backdoor. Once you have prepared the landscape and marked the space for your walkway, you will be ready to start adding beauty to your backyard.
Choose your colors and patterns wisely
Beautiful colors are attractive to the eye and they make your garden look luxurious. Whether you are choosing colors for flowers, walkway pavers, or tiles for your backyard patio, go for colors that match your house colors. You can pave your walkway with Silestone Quartz Slabs, Pental, Caesarstone, or MSI Natural Stone.
Use Tile Flooring in Glendale products for your gazebo or patio
Tiles can make your gazebo or patio look very beautiful if you choose your colors well. Let your gazebo be spacious to accommodate every family member and some extra space in case a visitor comes to your home. You may opt to use other types of tiles like ceramic instead of natural stone.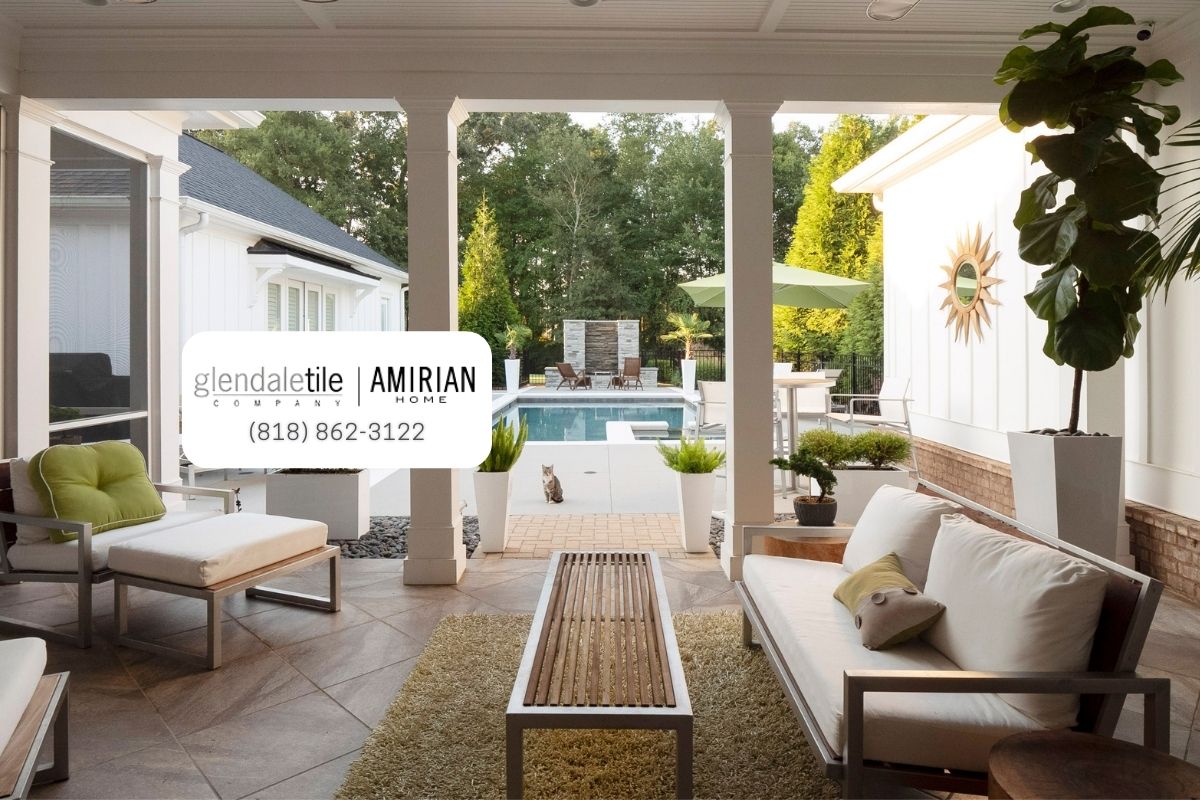 Plant life adds natural beauty
Green plants are a natural attraction for your new backyard and you should choose beautiful plant varieties to give your backyard a fresh feel and natural beauty. Grass should be your first choice and then include flowers, some dwarf trees, and tall ones too. Within a year, most of your plants will have grown and your new garden will look like it was planted several years ago.
Plan your lighting and buy water-resistant furniture
You should be able to use your backyard even at the night and that's why lighting is important. Ample lighting is also good for security and you will not worry much when it's dark. Buy your outdoor furniture and decorate your patio with more plants and fabric.
Get high-quality backyard tiles from tile flooring in Glendale
There are a lot of features you can include in your backyard garden but the best option is to have a backyard that is green, well-paved, beautifully landscaped, and with a space for outdoor furniture. We provide the best quality tiles for your gazebo, swimming pool, and pavers for your walkway. Call us today to place your order and to get more information at (818) 862-3122.