Flooring tiles make your house look beautiful and provide a protective surface for your home. They come in different colors, textures, shapes, and styles to give a variety of options. Due to the large variety of flooring tiles in the market, you might find it challenging when choosing the right tile for your floor. Consulting with a floor tile store might be a good idea because they can help you understand the options available. The following are the top options that you can get in Glendale.
Natural stone floor tile
Naturally beautiful, natural stone is easy to install and maintain. If you want something natural, durable, and luxurious, natural stone provides all good qualities desirable for a stylish living room, kitchen, bathroom, and hallway.
Natural stone is hard to wear, is hygienic, and perfectly fits into a modern lifestyle. The most luxurious options you will get in Glendale are Indian quartzite, Italian marble, and Brazilian slate. Other natural stone options are limestone, sandstone, and onyx.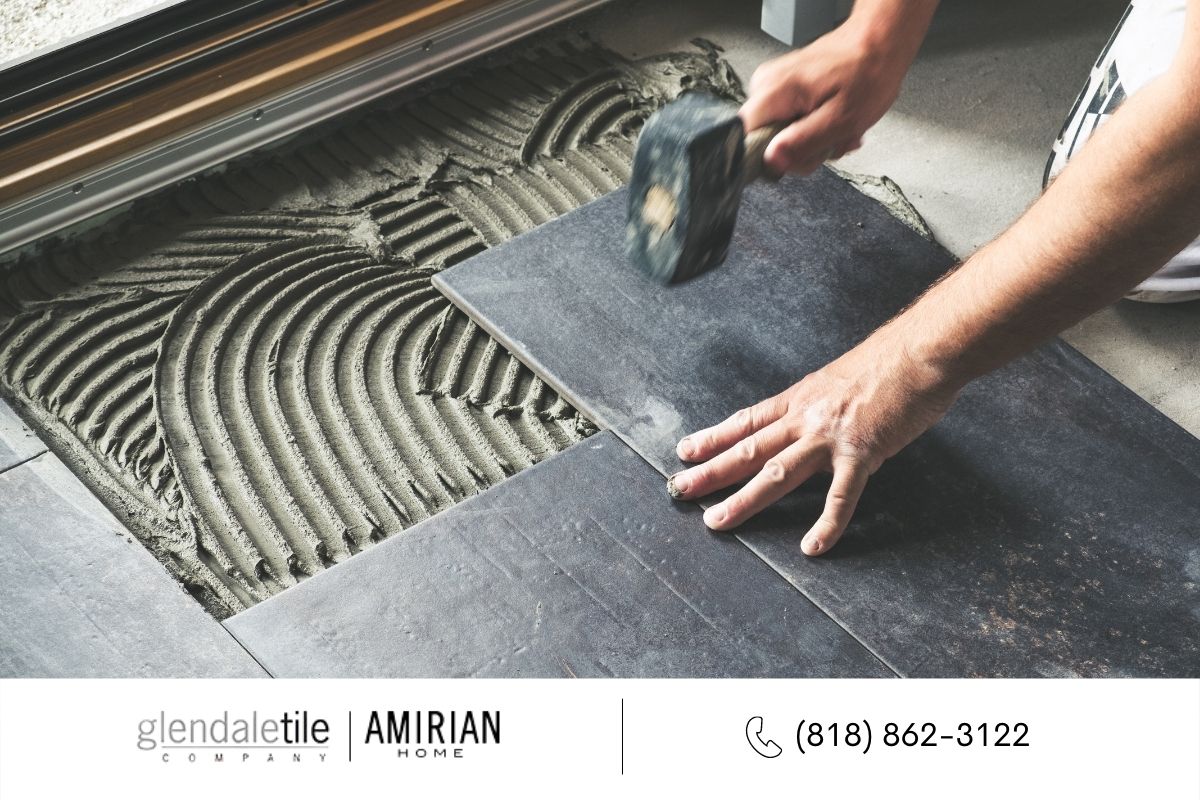 Everlife LVT flooring tile
Everlife LVT floor tile is one of the most luxurious tiles in the market. They are very easy to install and waterproof. They have a crystal lux layer for protecting them against damage from scratches, liquid spills, pet hair, and all kinds of stains. These tiles are a good choice for very busy homes with a large family or homes frequented by visitors. They are also very easy to maintain and are highly durable. The planks come in different sizes, like 7×48" and 6×48".
Ceramic flooring tile
Ceramic tiles offer the widest range of flooring tiles available in the market. You will get a wide range of colors, sizes, textures, and patterns. With ceramic tiles, you are not limited with the design options you desire for any room in your new home. If you are working on a tight budget and want something that will transform your rooms into a beautiful and timeless style, ceramic tile is your best option.
Porcelain flooring tile
Compared to ordinary ceramic tiles, porcelain is stronger, water-resistant, and a harder tile. They are quite durable because they are created using a higher temperature compared to other tiles. If you are looking for stylish and durable flooring tile with high design flexibility, porcelain might be your best option.
Wood-look flooring tiles
There are different varieties of wood-look flooring tiles that you can find in the various flooring stores in Glendale CA. They are either ceramic or porcelain and most of them are square, although there are options for planks. You have a choice of colors, different textures, and finishes. Some look like oak, mahogany, ebony, and some have rustic finishes.
Order your best tile option for your home in Glendale
Flooring tile options are wide and sometimes it's hard to decide which one is the best option for you. Because of their wide color range, an assortment of shapes, sizes, and qualities, you might require help when buying your floor tiles. We have been in the tile business for many years and we know what option is best for you. Call us today at (818) 862-3122 for more information.