Finding the right floor tile may not be easy. Their resilience and diverse patterns and styles are just a few of the factors that make them a popular choice among homeowners. Extensive selection options might make the search initially seem overwhelming, but conducting thorough research can lead you to the right flooring solution. Here at Amirian Home, we can help you find the kind of tile that fits you as well as your floors.
Factors to Consider When Choosing Tile
Different kinds of tiles have different attributes beyond just style. For example, Porcelain tiles may be ideal for areas prone to moisture, whereas ceramic tiles may be a bit more porous, and offer versatility in design and usage. When choosing a tile, don't forget to assess the level of foot traffic in the intended space. How many people are going to walk through the area? How often? High-traffic areas necessitate harder tiles to withstand wear and tear effectively. In contrast, low-traffic areas can accommodate softer tiles without compromising longevity.
Durable and Easy to Maintain
Tile floors, thanks to their smooth surface, are effortlessly cleaned. Regular sweeping and mopping with mild detergent suffice to maintain their pristine appearance, making them a practical choice for busy households.
Both porcelain and ceramic tiles are highly durable. Porcelain, in particular, boasts waterproof properties, while ceramic tiles are robust and resistant. They can stand up to cracks and chips. Furthermore, tiles can be designed to resist stains, slips, scratches, and dents.
The experts (such as those at the National Association of Home Builders) peg the lifespan of ceramic tile floors to be many decades with minimal upkeep, thus, showcasing their enduring quality. Porcelain tiles, although slightly shorter in lifespan (but still going for multiple decades), also provide substantial longevity.
Style and Size
The aesthetic appeal of tiles plays a pivotal role in interior design. Carefully select patterns and colors that complement the overall theme of the room. When in doubt: go with what looks good to you. You and yours are going to be the people who spend the most time in your kitchens and your bathrooms. Thus, you want to choose something that you'll be comfortable with.
Not all tiles are the same size. Far from it. For the best results, tailor the size and shape of the tiles to the specific space. A good rule of thumb: Larger tile makes a room look more spacious than it might be otherwise, whereas smaller tile (though no less attractive) might not have the same effect.
Indeed, color can influence how size is perceived as well. Darker tiles can make a home feel cozier while also making it feel smaller. Light tiles have a contrasting effect.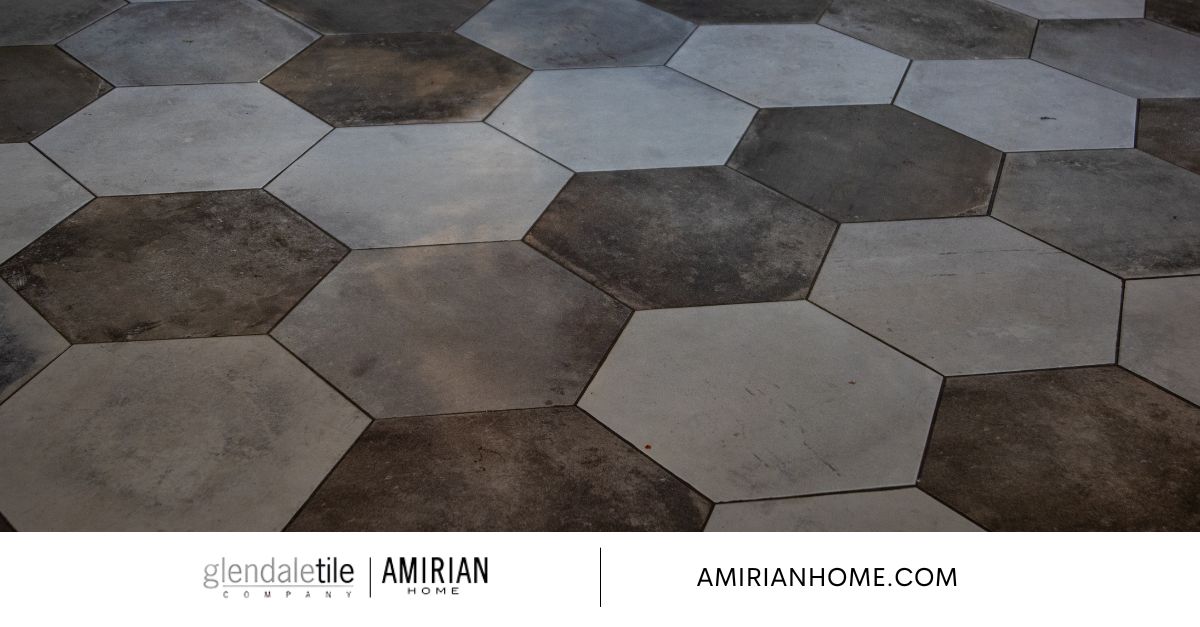 Amirian Home for Floors and More
You can see all of the different tiles we offer for your floor and elsewhere through our site. That said, to gain an even greater perspective about what it is that we offer, we encourage you to reach out to us to schedule a trip to our showrooms.