Amirian Home offers various tile options that can help you achieve a modern farmhouse design. Modern farmhouse is about simplicity and function. It always provides a comfortable feeling that entices you to just stay and live in the house. This house style involves a lot of mixing and matching. And tiles are a vital design element that can be incorporated with other elements in your house.
What Tiles from
Amirian Home
to Choose?
Metallic tiles can be a great option. They can boost your design for your modern farmhouse space. Choose a metallic tile design with antique copper metal trim. It adds a bit of color and rustic element to any room. You can mix copper, silver, and gold tiles. If you're not sure how to achieve a great look by mixing metallic tiles, talk to our designers. Generally, you would want to avoid a "metal" overload. Just use up to three metals that don't compete for attention. Then, make sure to choose warm color palettes with warm metals.
Achieving Wood Look
If you want your house to have that farmhouse ambiance, make sure that the bathroom has wood-look tile. Choose to install this tile on your shower. It can warm up the room and connect all tiles. Then, opt for natural wood vanity to complement the shower wall. You don't need perfect matching pieces when it comes to achieving farmhouse design. Rather, it's all about coordinating the tiles and other elements in the bathroom. Then, make sure to choose a wire basket and apron sink.
Go for Patterned Tiles
Visit our Glendale tile showroom and you'll find dozens of patterned tiles from various brands. These tiles can be featured in various parts of your house to achieve a modern farmhouse design. Patterned tiles are everything if you want a farmhouse style. They can add a vintage feeling while warming up the space. They also create a lived-in, functional feeling. And we all know it's the most vital element of a modern farmhouse space.
Get that Vintage Look
Handmade-look tiles are just perfect if you want to achieve a farmhouse design that reminds you of the ranch of your grandparents. These tiles offer a traditional feeling to a certain room in your house. They can soften the neutral color palette. These tiles also introduce a weathered feeling. In addition to handmade-look tiles, make sure to add some vintage wooden chairs and a woven basket in the mix. You can also opt for brick-look tile. It can also work well to achieve the style you prefer.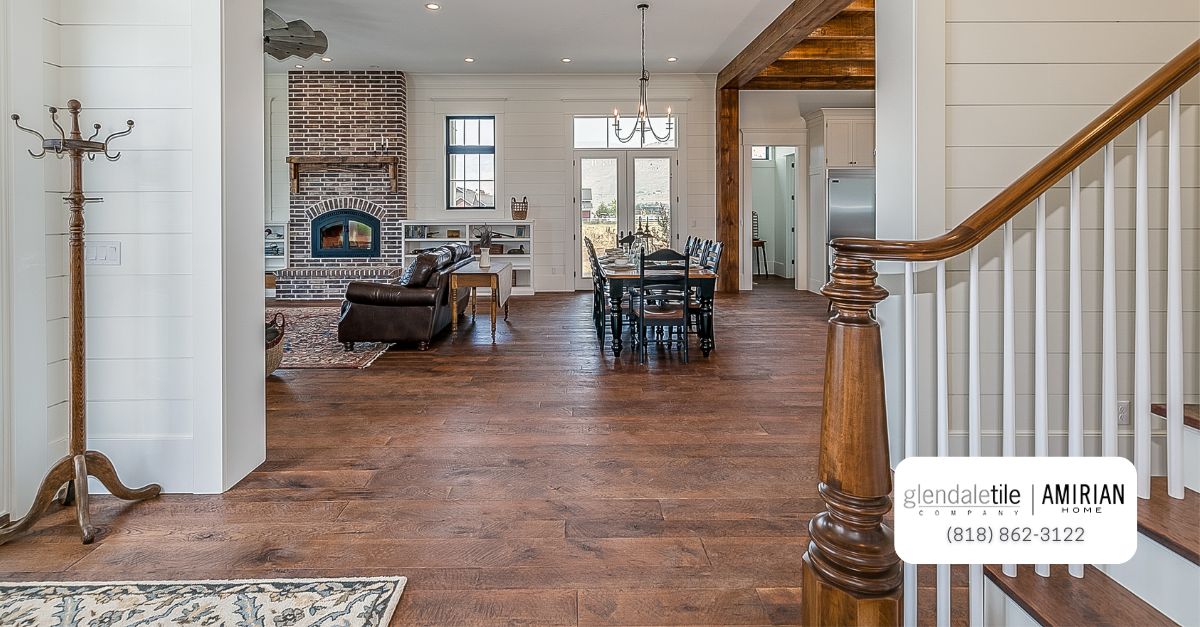 Ask the Designers
There are many ways to achieve a farmhouse design in your modern home. Tiling is one of the elements you can add. If you're not sure what tiles to choose from, visit our Amirian Home tile showroom. Our designers will be there to assist you in finding the right tiles for the design that you want to accomplish in your house. Call us for more information at (818) 862-3122.