The environment you live in has an impact on your mental health and wellbeing and this includes homes and workplaces. Lighting, colors, furnishings, and finishing materials have a role to play in making a living space comfortable and soothing. Tiles, as finishing materials in interiors and exteriors, can lend these properties to a living space turning it into a cool and calming environment besides adding a touch of class. At Amirian Home, we offer a wide range of tile selection for new homes and classy interiors.
Planning for the tile installation
To create classy and calming interiors, start by planning, possibly with the help of a tile expert near you. The planning will involve a survey of the rooms in the home or workplace as the case may be while reviewing the functions of each room. The normal usage of each room will determine the best tile theme to follow in order to achieve the desired calming environment.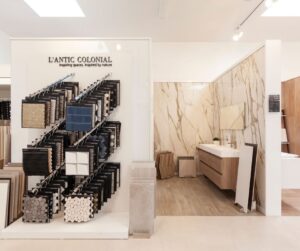 Tiles in living areas
The living area needs to feel cozy, warm, comfortable, and with a welcoming ambiance. To achieve this, you may start by exploring appropriate tile options at the Amirian Home that can blend in with the rest of the fittings in the room for a calming effect. Wood tiles are especially great for floors when it comes to creating a rustic yet classy look that is at the same time soothing. Alternatively, you may opt for natural stone tiles paired furnishings in neutral tones for the same effect.
Bathroom retreats
Now, the bathroom is where one retreats to after a hard day's work in order to relax, soaked in a warm tub of scented water. Therefore, this space requires a personal feeling that reflects character and mood through color and motifs. This means a visit to the tiles showroom in Glendale to choose the right colors and designs. To achieve maximum effect, choose tiles that will blend with the bathroom fittings and fixtures for a harmonious finish. Large size tiles are good for fewer grout lines to reduce molding.
Restyling the bedroom
As you buy tiles for home makeovers, pay special attention to what relaxes you in the bedroom. You may choose to bring into this space some outdoor touch by using natural stone tiles, hardwood plank, or chevron designs, while slate split face tiles can make for a striking but calming feature wall. The tiling of the feature wall is especially important, as it is the most likely place you will look at as you relax in bed.
Large and small spaces
Amirian Home has a large selection of tiles that can convert any size of room into a pleasant space. Whether you opt for a minimalist finish or an elegant, classy cladding, we stock tiles from leading brands and we have professionals to guide you in choice and installation. Search for 'tiles store in my area' online, to find our branches near you, or simply call us at (818) 862-3122 and we will be glad to help.