The first thing you step on when entering a house is the floor and yet many don't even realize that this part of a home is as important as anywhere else. Interior designers know the importance of flooring and where you can buy the best tile flooring in Glendale. Interior designers spend a lot of time and effort in choosing the type of flooring that would best suit each home. They know that the floor serves as the foundation of their design and ultimately, affects its overall success.
Wooden floors for a classic look
Often, the flooring material you will find in most houses is wood as this adapts to all types of styles. It's also available in different shades. Of course, natural wood has always been a popular choice and you may even opt for synthetic or laminate options. This type of wood flooring offers good results with greater durability and less maintenance. If you're a fan of this type of flooring, come to us at Amirian Home and visit our Glendale showroom. Choosing the right tonality and material for your flooring is important for better versatility. You may choose the same wood material for your tables or other customized furniture. According to interior designers, this gives you a maximized harmony in terms of materials.
Choosing the right tiles
Tiles are a kind of hard flooring that comes in a wide variety of synthetic and natural materials. Other materials used for tiles include ceramic, slate, mosaics, marble, and so on. The greatest advantage of using tiles for your flooring is that they are very resistant to wear and can last for a long time if given proper care. Since they are also waterproof, tiles are best suited in bathrooms and utility rooms. They are also perfect in the kitchen since they're easy to clean. Tiles are an excellent and very popular option. We offer the finest quality tiles at Amirian Home, and our success is reflected in each of the various states we work with. As for the downside of using tiles, they can be cold to the underfoot and slippery when wet.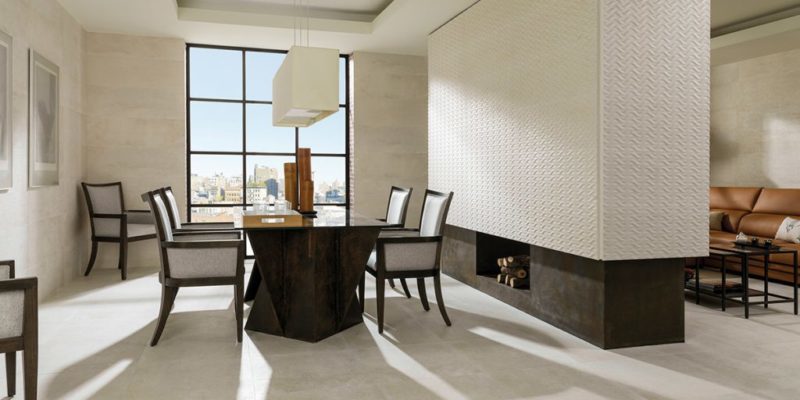 Concrete and cement for an industrial look
Today, you have more refined options that are traditionally used in industrial fields – concrete and cement. These are increasingly becoming popular in residential areas. For instance, there are micro-cement pavements. Aside from being a more affordable alternative to the coating that makes existing floors much easier to maintain, this flooring option also allows you to add color, and even water to certain surfaces, thus offering an incredible aesthetic impact. You can also opt for polished concrete for large open spaces. This is a very uncommon option that you can have in your home over an existing floor by pouring in new pavement.
Why flooring is so important
The most important point when choosing the type of flooring is to figure out first what the room or area is for. That way, you can select a suitable end for this function. Once you have determined this, you can now choose the best flooring material that suits your preference. We at Amirian Home will help you as we have a variety of options to choose from. You can check out our gallery or contact us and learn more about everything we offer.