The modern office has come a long way from the cramped spaces of yesteryears to the airy open spaces today. Also gone are the austere walls with boring colors and dated paintwork. Today, Amirian Home is involved in designing and building contemporary office spaces to high-level specs to meet the current trends. It does not matter the size of your office design budget, we will get you the right design solution affordably.
Open floor plans with a difference
Open floor plans were the first break from the traditional office space. However, these were just large rooms with workstations for several workers. Our experts can add a touch of sophistication to this design by use of dynamic colors, lighting, wall fittings, and cabinetry besides elegant workstations. High quality tiles from our tile showroom will add a sparkle to the floor for a stunning finish that is sure to impress. Less walls also mean less makeover cost.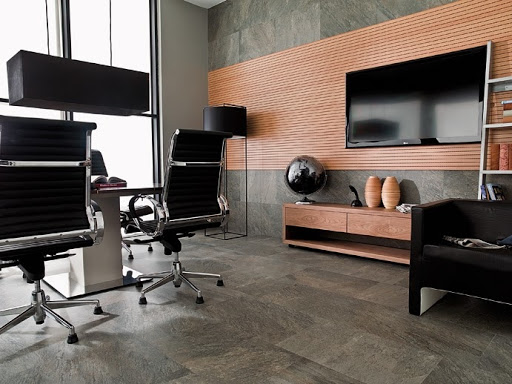 Create versatile spaces
Our design consultants can create a versatile modern office space that incorporates various activities in one seamless flow. Creating open niches along the wall allows privacy for staff to consult with clients or have small in-house consultative meetings. Lounge seats in the center can serve as social points for coffee breaks while comfortable seats around one or two tables create a homely touch for staff. Amirian Home has the expertise to create this luxury ambience for you.
Simulate nature
For a stunning visual effect that will wow your visitors, we can incorporate natural elements into your office space. Plants are important in home renovation and can be effectively used in office décor to liven up the space. Plants have a calming effect on people and you want your workers relaxed for increased productivity. We will include water features and stone accents to complete an awesome design.
Stunning window views
Another way to impress visitors is to install floor to ceiling windows to provide great views of the outside from any position in the office. Amirian Home uses this design for the natural lighting advantage it brings and the sense of added volume it gives interior spaces. We can also add another novelty, the standing desk by the windows that is fun for workers to gather around for brainstorming.
In-house gym
If you have room to spare on the same level, Amirian Home will work into the set up a fantastic looking gym for workers. This a wonderful addition for your workers that encourages healthy living and wellbeing. Other than wowing your visitors, this addition also guarantees your workers' loyalty and improves productivity.
Our interior designers are well equipped and experienced to create a great office space for your needs. We stock most of the materials needed at both our stores and at Glendale Tile Company to offer you a wide selection. You are welcome to visit our offices for consultation or call us on (818) 862-3662 and we will be glad to help.