Remote work is more common these days. It's one of the effects of the pandemic. Working from home has become a norm for many people now. This setup is convenient. However, it also means you need a suitable workspace. There are many ways to upgrade a certain part of your house for your home office. But the fastest upgrade is to install a floor tile.
Creating Classic Office Atmosphere with Floor Tile
Tile is one of the favorite options among homeowners who are converting a part of their house into their home office. One reason for choosing tile flooring is that it comes in various styles, patterns, and colors. With such a variety of options, there's one or some tiles that can surely match their personality. But that's not all. Tiles also create an office atmosphere that can help you get in the zone so you can stay a productive while. If it's time for you to choose the best tile for your needs, here are some things to consider:
Material
As mentioned, there are a variety of options to choose from. Tiles can be made from the following materials:
Ceramic
Porcelain
Glass
Granite
Slate
Travertine
Each material offers benefits and cons. For instance, if you choose the porcelain type, you're getting an elegant finish without complicated upkeep. However, installing it is tricky. On the other hand, if you choose glass tile, it can resist stains, like red wine and acidic foods. However, glass tile chips quite easily along the edges. With that in mind, the best material to pick will depend on where you are going to install it. But that's not all. you also need to consider your budget.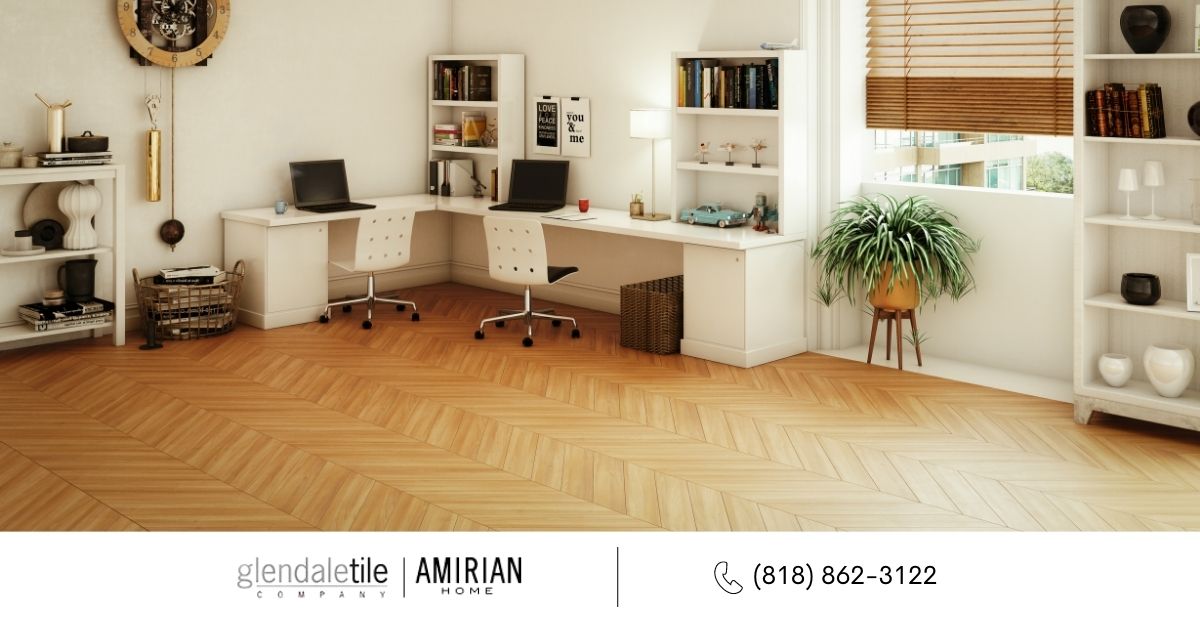 Color
Of course, the color of the tile should complement the rest of your home office decor. You can't just choose any color. It has to match the color of your walls, ceiling, and furniture. And remember that colors can affect your state of mind.
Red, for instance, can be arousing or exciting. Blue, on the other hand, can be calming. Thus, if your job is stressful, you can benefit from having blue-colored tiles.
However, the tile floor is difficult to alter compared to your walls or furniture. Thus, experts recommend selecting neural tones and building the rest of the scheme around the tile's color.
Style
You can make a tile look modern or exotic, old-fashioned or elegant. The style is limitless. Although it's the most practical flooring option, it can also be beautiful and stylish. But it depends on the patterns you pick. That's why it's ideal that you visit our showrooms to help you better understand how a pattern can go with a certain decor. When you visit us, you can talk to our experts to help you choose the right style, color, and design of tiles for your home office.
Start Sprucing Up Your Home Office
The floor tile can make your home office look amazing. It can also help you stay productive. Need more help? Call us here (818) 862-3122.