Porcelain is a popular option as a kitchen tile. It is denser and less porous. But it is durable and offers better resistance to water and stains compared to ceramic tile. What's more, is that it offers unmatched versatility when it comes to its design. It mimics natural stone varieties, including marble, limestone, and granite.
Where to Find
Kitchen Tile
?
If you want the best porcelain kitchen tile on the market, then make sure to visit Amirian Home. Our showrooms showcase unique varieties with different characteristics. When picking porcelain tile, here are some things to consider:
Toughness. It's hard so it can

stand up to heavy foot traffic

. And if you install it in your bathroom, it can withstand splashed water. With its durable materials, it can last for many years. But it requires regular upkeep.

Clean. It is easy to clean. You can clean it by simply wiping up water with a clean cloth. Or vacuum it regularly. But don't use abrasives, like steel wool or scouring pads. If you are using unglazed porcelain, it requires frequent cleaning.

Underlayment. It must be installed on a smooth, flat, and rigid floor. You can apply it to a concrete slab or a cement-based board.
Difference Between Ceramic and Porcelain
They have similarities but they are also different in various ways. Many homeowners choose them because of their durability, affordability, and timeless aesthetic. Because they don't need to be mined from the earth, they are a cost-effective option.
Compared to porcelain, ceramic is softer so it is easy to cut using a basic tile cutter. Hence, it is a versatile option if you are looking for tile flooring that can also be used in various rooms of your house.
Between ceramic and porcelain, porcelain is costlier. But it is more affordable than natural stone. But porcelain is a bit trickier to install because of its durability. That is, it is extremely hard to cut through. It needs a specialty tool. That's why choosing this tile floor option requires hiring professionals. You can't easily DIY.
Multi-Faceted Tiles
If you wish the tiles to stand out, then make sure that you don't just focus on the materials. Rather, pick the right colors and patterns, as well as texture. Some tiles have a 3D look and feel. The raised details can add something unique to your design without having to go overboard. You may choose an embossed pattern. These tiles come in understated designs. In that way, the texture will become the main focal point. It will be timeless.
Small Tiles
Another option is to choose the smallest tile. Penny tiles are gaining popularity in recent years. And many homeowners are now choosing them for their kitchens. These small tiles can add texture and movement to your kitchen. They let you play around with color.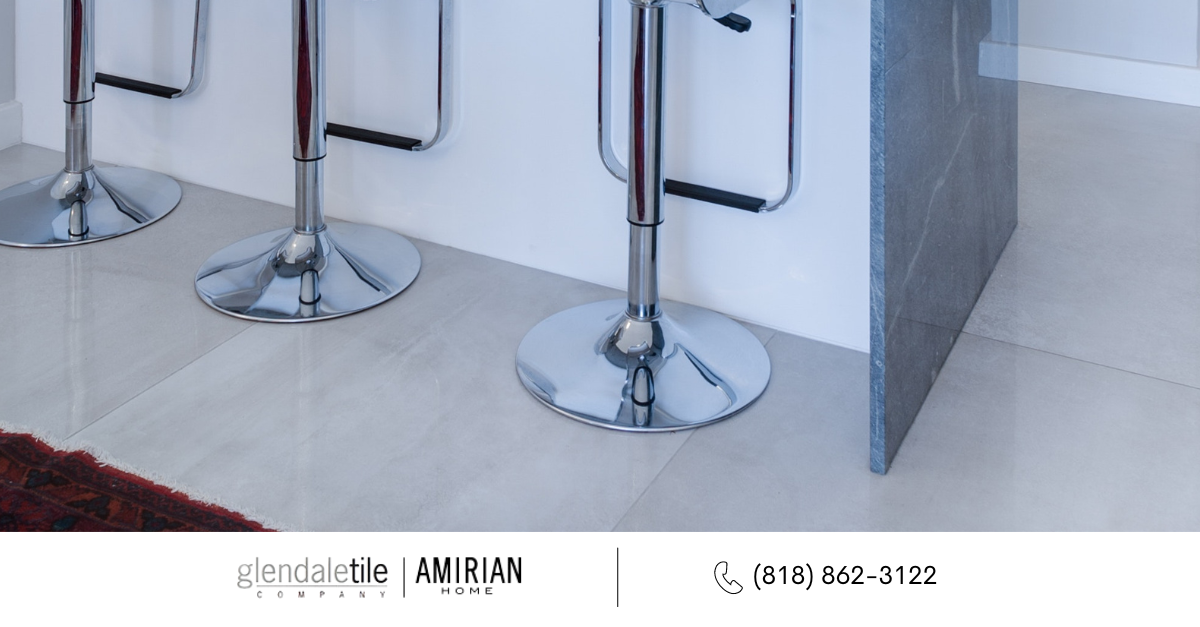 What Tiles to Consider?
It depends on your preference. If you are still wondering what kitchen tile to pick, make sure to visit our showroom in Glendale. Or call us here for more information: (818) 862-3122.