When you're designing a nursery in your house, one of the things to consider is the flooring. It's an exciting experience. But what is the best flooring for a nursery? Is it possible to pick it up from a tile store in Glendale CA?
Tile Store in Glendale CA
to Help You Find Flooring for Your Nursery Room
Nursery flooring plays a vital role in your baby's overall health. The floors in this room should be clean and can withstand a baby's temper tantrums. Soon, when your baby gets old, he/she may throw some of his/her toys. Is tile flooring a good idea?
Tiles for Nursery
Some experts may not recommend tiles for nurseries because they are slippery. But tiles are made of different materials. And when you visit Amirian Home, you'll find different options that are best for this purpose. Here are some options you must consider when designing or setting up your nursery room.
Hardwood Flooring
It's perfect for any nursery. Hardwood offers a timeless look and beautiful visuals. These floors are also easy to clean. Thus, any spill can be easily wiped up. You can also buy waterproof hardwoods or floors that won't trap allergens, unlike carpets. When you visit Amirian Home, you can choose from our different hardwood floor options or ask our experts about the best floor for your baby's room.
Laminate Flooring
Hardwood may be easy to clean but it requires polishing once in a while. If you don't have time for that, consider laminate flooring. It doesn't need waxing or polishing. All you need is a broom and damp mop to clean and make sure it will last long. Although not all laminate floors are water-resistant, Amirian Home offers laminate floors that can be resistant to water. Thus, if your baby spills his/her milk bottle, you can wipe it quickly.
Vinyl
Even though laminate flooring is available at affordable rates, another great option you can try is vinyl flooring. You can shop for vinyl planks that look like genuine hardwoods. They are also easy to clean. Visit our showroom and you'll find luxury vinyl flooring with waterproof features. Yes, it's not just water-resistant. Many vinyl options have underlayment so they offer warmth underwood. Plus, they offer a quiet surface so your baby won't wake up as you try to put him/her to bed.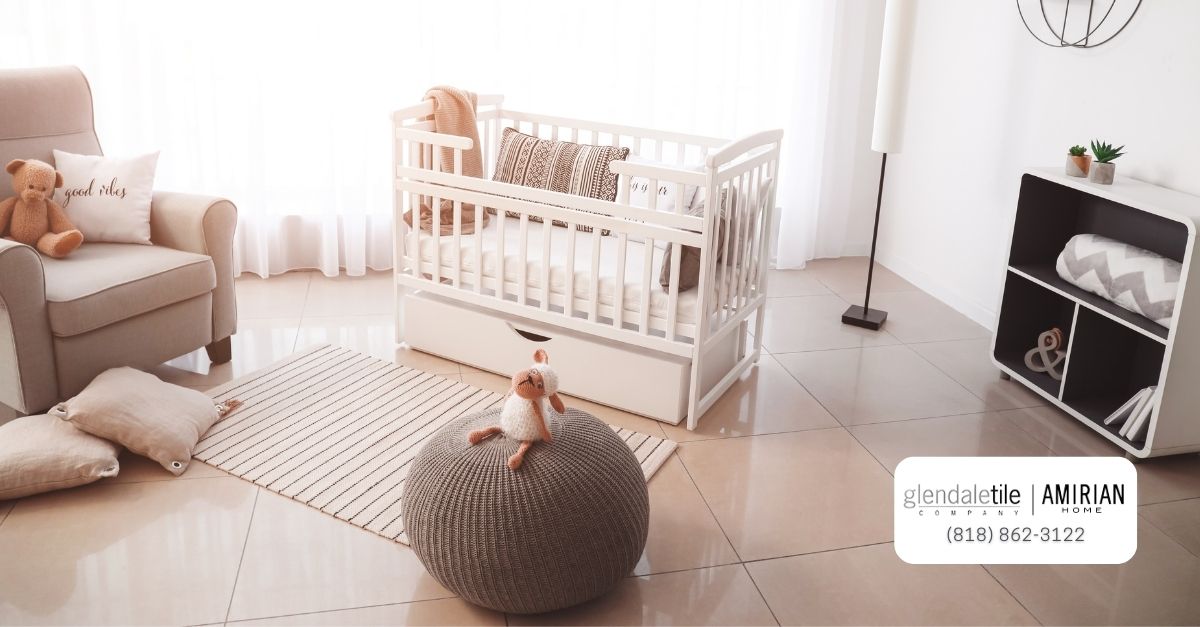 What If You Prefer Tiles?
The good thing is that you can find tiles that are not slippery and might be ideal for the nursery. Slate tiles, for instance, offer a rugged appearance. Or choose a honed granite tile option. It's a luxury flooring that offers a nonslip surface. It may have a matte finish but it provides a flat, smooth surface safe for babies.
Consult with an Expert
Start shopping for the best flooring for your nursery by visiting our showroom. Our tile store in Glendale CA offers different flooring options for various purposes. When you visit our showroom, you will have a perfect idea of how a certain flooring will look like when installed in your nursery. For more information, call us here: (818) 862-3122.