When shopping for pool decking options, consider the materials you need in your design. Decorative concrete can offer you many looks in a cost-effective way. Tile flooring in Glendale specifically designed for pool decks are flexible, durable, and sturdy.
What is the Best
Tile Flooring in Glendale
Around a Pool?
Tile flooring can be a cost-effective option for your pool deck. If you are shopping for tiles, consider your budget, safety, maintenance, and durability of the tile. Furthermore, the tile must fit your home and landscape. Tiles aren't the only player in the game. However, they do offer a great advantage that other materials can't match, especially when it relates to versatility.
Things to Consider When Shopping for Tile Flooring for Pool Decks
Affordability
Your budget should be a top priority when shopping for tiles. You can choose bricks or flagstones as they have great aesthetic appeal. However, they are costly and laborious to install. That's why most homeowners in Glendale consider tile flooring for their pool decks. Tiles are perfect if you're on a tight budget. But don't worry because they still offer impressive results. This is especially true if you purchase the tiles from Amirian Home.
Slip Resistance
This is definitely a must-have feature. The pool deck surfaces are slippery. Thus, installing slip-resistant flooring must be a high priority. All flooring materials tend to be slippery when wet. However, there are ways to improve surface traction. The good thing is that it doesn't detract from the decorative appearance. When you visit Amirian Home's showroom, you will find different attractive yet affordable flooring options. Some are designed to be ideal for pool deck surfaces because of their slip-resistant feature.
Heat Reflectivity
Besides slip resistance, you should also consider tiles with heat reflectivity features. Tiles can be hot to the touch when baked in the sun. But some tiles reflect solar radiation, thereby, more comfortable on bare feet. Some tiles have decorative toppings for concrete that you can use to lower surface temperatures. Make sure to ask the experts at Amirian Home about it.
Design
Your pool decks can add to the curb appeal of your house. If you are going to sell your house in a few years, you can choose your pool as one of the attractive features. Many buyers now want to purchase a property with a swimming pool where they can hang out with their family members on a weekend. However, just because it is an attractive feature, it will not add to the appeal of your house if the overall design is obsolete. Thus, when shopping for outdoor tile for this space, make sure to choose the right shape, size, and color that fits into the architecture of your house.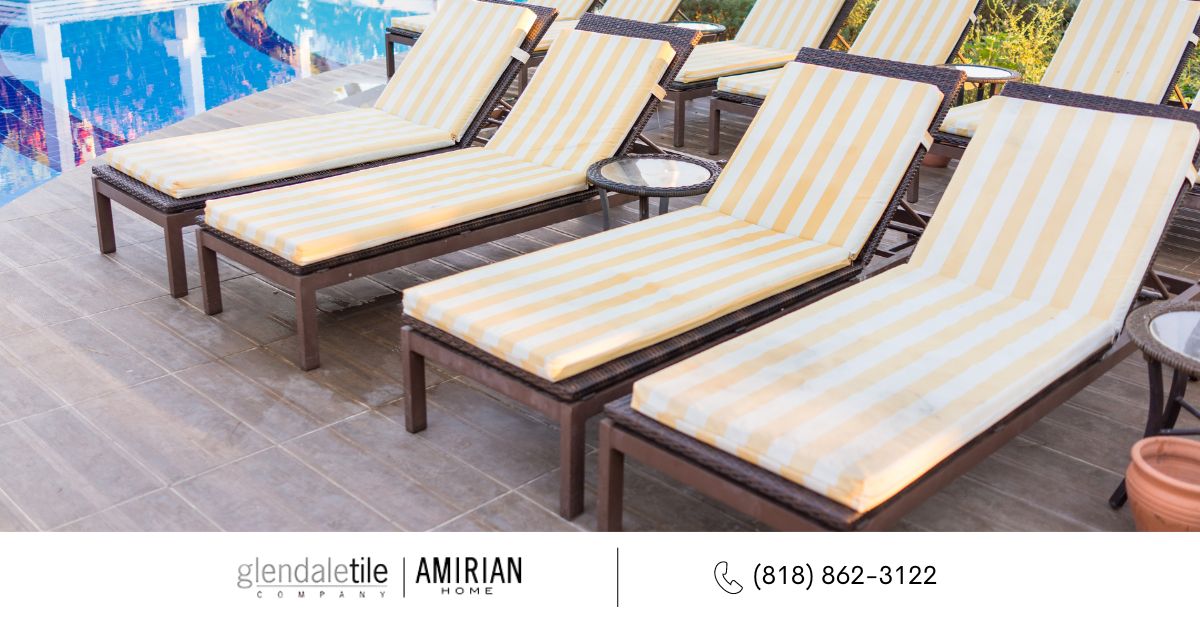 Ease of Maintenance
Tile flooring requires maintenance. But some tiles require more upkeep than others. Thus, choose outdoor tile flooring in Glendale that only needs occasional cleaning and resealing. You can find out more about this type of tile when you visit Amirian Home's showroom. Or call us here: (818) 862-3122.