Luxury kitchen tiles are beautiful additions to your home, but it takes some work to keep them looking this way. In the interest of making sure that you keep them in their best shape, here are some recommendations for properly cleaning kitchen tiles.
Cleaning Backsplashes
Tiled backsplashes, especially those behind stoves and kitchen backsplashes, are going to need particular attention at the time of cleaning because of their exposure to grease. You will need to use a degreasing agent first to remove any oils from the surface- Once you've cleaned with that, use a clean wet cloth and then buff with a dry choice. If you have orange or lemon oil, you can drip a few drops directly onto the surface of the tiles and wipe them with a damp cloth or a sponge. Not only will this help remove the grease you're dealing with, but it will also help your kitchen smell good and fresh in a more natural way than that of a lot of cleaning products.
Cleaning Floor Tiles
The orange or lemon oil method will also be a good way to clean your kitchen floor tiles, so it's also a good place to start when cleaning the floor of your kitchen. You will probably want to get a steam mop in order to clean your kitchen floor. Most of these won't be good to use with cleaning products, but you probably don't want that either. After all, the best way to clean your kitchen floor tiles is with water and a few drops of white vinegar. The steam mop will help you sterilize any germs while also cleaning the surface. Once the floor is dry, consider applying topical grout protectors to help prevent the build-up of dirt, grime, and oil.
Cleaning Natural Stone
Now, when it comes to luxury natural stone tiles, you will have to be careful. After all, the stone is naturally absorbent, so the tiles themselves need to be sealed to prevent moisture from becoming a problem. This sealant wears over time, so you will have to make sure you reapply it every so often. Of course, the best way to extend the life of the sealant is to use the right cleaning supplies. When it comes to stone, always use a PH neutral cleaner and damp cloths or steam mops in order to clean them properly. If properly taken care of this way, your sealant should last at least six months, but consult with a specialist who is familiar with the specific stone just to be sure.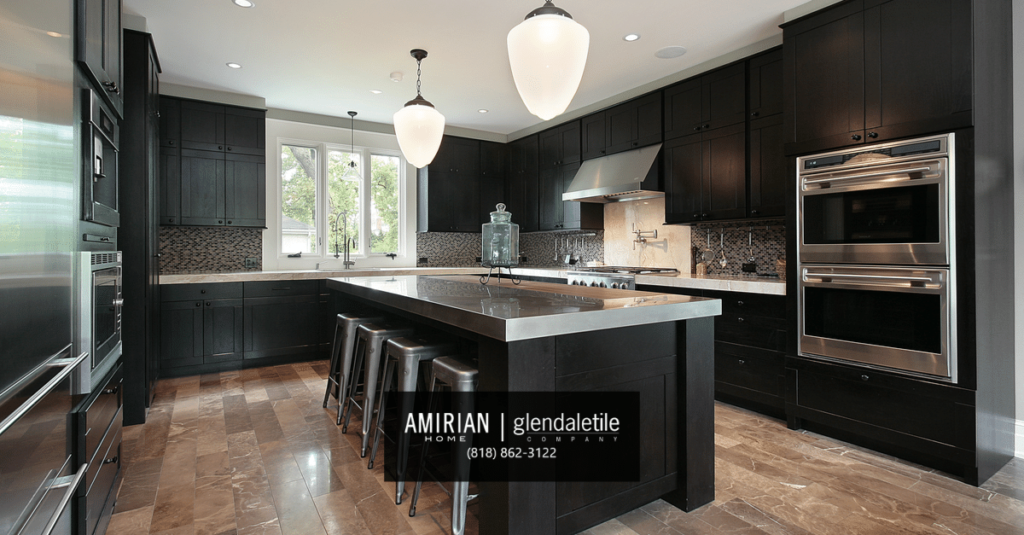 Luxury Kitchen Tiles
Tiles are not just functional; they are also decorative components of the kitchen they're in. Because of this, choosing them is a matter of practicality as much as it is of taste. In an effort to provide you with plenty of choices for both approaches, we at Glendale Tile and Amirian Home welcome you into our showroom to take a look at everything we offer. For more information, you can visit our bathroom tile store in Glendale at 4116 San Fernando Rd, browse our website, or give us a call at (818) 500-7130.