Log cabins offer a perfect environment to help you wind down at the end of the day. If you have one on your property, you can use it for entertainment purposes. And if you are planning to renovate it, consider going to our kitchen and bathroom showrooms in Hermosa Beach to get some awesome ideas.
Kitchen and Bathroom Showrooms in Hermosa Beach
for Your Log Cabin Renovation Project
Some homeowners in Hermosa Beach thought that they knew everything about home revelation. They had several ideas that they had gotten online. But when the renovation is done, they're disappointed with the results. The ideas they obtained from a certain magazine are very different from reality.
That's why if you don't want this to happen to you, make sure to take the time to go to our showroom in Hermosa Beach. You get to see and feel the countertops, fixtures, and other materials that you wish to use for your log cabin. The showroom will have a more natural environment with the same lighting that you have in your own home. You also get a better sense of the textures and features' purpose. This will help you decide if the materials are ideal for your cabin.
Lake House Kitchen
If you want your log cabin to have a rustic charm, then you can turn your kitchen into a lake house theme. You can have a large kitchen island. It draws your eyes into the room. Choose to have a white cabinet to give it a nice contrast to the rustic look. Imagine sitting down for a meal after 9 hours of work in your home office.
Open Concept
This is great if you are using your log cabin as your home office. Open-concept design is all the rage right now. It's also great if you love to use your cabin to entertain your family and friends during the weekend. You can choose to feature a granite countertop and opt for a stone backsplash. For your large kitchen island, choose to have a farmhouse sink. Then, add a raised bar top that seats four people.
Use Natural Materials for Your Bathroom
If your log cabin already has a rustic-themed bathroom, renovating it requires the use of natural materials. This will create a more cohesive look and feel. Thus, choose to use wood, stone, and metal. You may also pick stone tile for the floor and walls.
Have You Heard of Shiplap?
This design looks so great in a bathroom with a rustic-chic theme. Although you can choose natural wood paneling, you may choose to have a white-washed stain to foster a sense of airiness. And make sure to use soft hues. That is if you want a rustic bathroom. You can never go wrong with earth tones. They create a natural look perfect for this type of bathroom.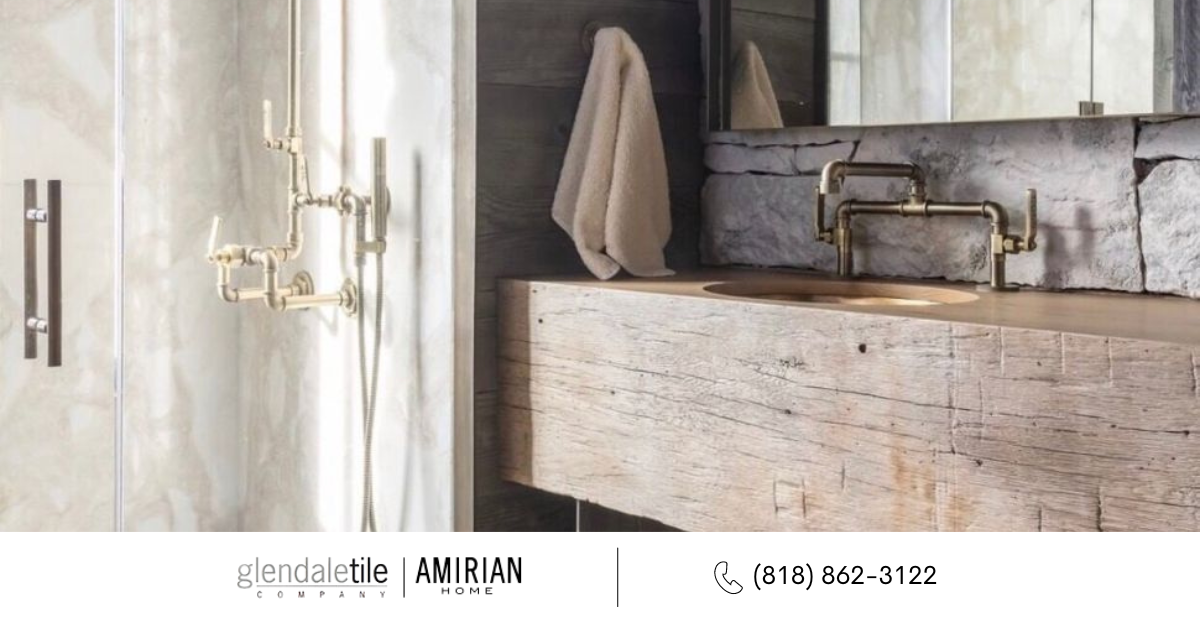 Need More Ideas?
Make sure to visit our kitchen and bathroom showrooms in Hermosa Beach to give you a better sense of what you need to renovate your log cabin. Or call us today to talk to our designers: (818) 862-3122.