After the construction work of your new home is complete, what comes next into your mind is making it look like the most beautiful and luxurious home in the entire neighborhood. You can achieve this goal on a budget but if you have enough finances, you can go to any length and breadth. Little things like sinks, toilet seats, or kitchen tops and bigger things like cabinets, walls, and floor tiles can make a big difference. All these are items readily available from kitchen and bathroom showrooms in Glendale ca at affordable costs.
Buy luxury kitchen cabinets from kitchen and bathroom showrooms in Glendale CA
Kitchen cabinets come at all sizes, shapes, colors, and prices but they all give your kitchen a fresh and luxurious look. You can go for luxurious traditional cabinets, expandable, or open cabinets. The secret is to go for kitchen cabinets that match with your wall colors, floor tiles or create an ambiance that will not be off with the rest of your home interior décor. Visit your local kitchen cabinets showroom and pick the best that is within your budget and taste.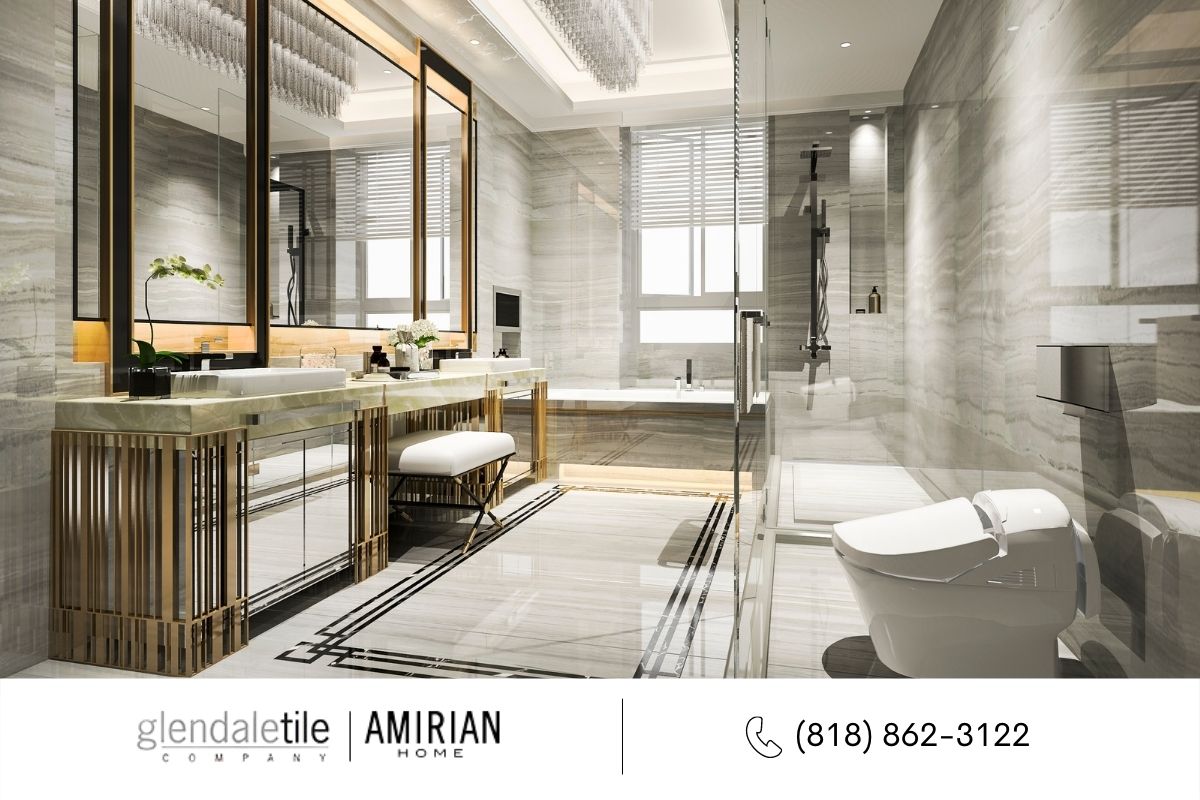 Buy elegant bathroom vanities
Your bathroom vanities will only look luxurious when they match the rest of your home installations in terms of color, style, and size. They help make your bathroom more functional by providing countertop space, hide fixtures like plumbing work, and provide storage. Get the most luxurious countertops, mirrors, shelves, and sink.
Install a luxury bathtub
The centerpiece of your bathroom is the bathtub and without it, your bathroom will not look modern or luxurious. The first attention of the bathroom is the bathtub and most people prefer to use the tub for bathing instead of overhead showers. There is a wide variety of bathtubs to choose from at the kitchen and bathroom showrooms in Glendale CA.
Use high-quality kitchen and bathroom tiles
Floor and wall tiles do not just add protection to your house, they also create attention and a source of beauty and luxury. Tiles vary in categories, colors, shapes, and textures. Kitchen and bathroom tiles are water and slip-resistant to keep away mold, bacteria, or mildew. They are easy to clean and stain-resistant. You can choose hardwood look tiles, laminate, vinyl, or any other tile that will add value to your kitchen, bathroom, and the entire house.
Buy best quality kitchen and bathroom materials from the best showrooms in Glendale
There are many things you can add to your home to give it a touch of luxury. Things like plant life, lightning, curtains, kitchen cabinets, and bathroom vanities all help add value and luxury to your home. When choosing kitchen and bathroom tiles, bathtubs, taps, sinks, and so on, you must ensure they match well with the rest of your house. We have a wide selection of materials that will offer the best solutions for your kitchen and floor needs. If you need further information, feel free to call us at (818) 862-3122.