The look of a house communicates a lot about the tastes of the homeowners. Flooring trends change often as the tastes and preferences of the homeowners change and new technology emerges. In flooring, people are looking for something practical and stylish, not necessarily too trendy to fade with time.
If you are planning to remodel your house by installing new flooring in your rooms, look for something that can add value and increase the value of your home. Here are the latest trends for inspiration.
Waterproof flooring
Waterproof flooring is trendy because it is practical, durable, and comes in a variety of designs, styles, materials, and colors. Water splashes, leaking pipes, steam, and spills can damage the floor of your home.
The solution to this is waterproof flooring because it does not absorb water and will not allow mildew and mold to develop. It is also easy to clean and maintain. Ceramic tiles and porcelain are waterproof. To identify professional tile experts to install tiles in your home search for "tile showroom near me" and get the tile quotation and installation.
Wood-like flooring
Another current flooring trend for contemporary homes is having a floor that looks like real wood. Planks and flooring tiles that look and mimic wood are excellent options because they are affordable and waterproof. This makes them suitable for kitchens, basements, and bathrooms.
Ceramic tiles and porcelain can be designed like hardwood and can have a texture similar to that of the wood plank. They cannot be easily damaged by moisture or water. Modified vinyl plants resembling hardwood planks have also been trendy and can be installed on any flat surface.
Environment-friendly flooring
As many people try to conserve the environment, designing environmentally-friendly flooring is becoming trendy and appealing. For hardwood flooring, people want to establish the origin of their floor planks.
If the hardwood is certified by FSC, you will be guaranteed sustainability, meaning it came from well-managed forests. Other floor types from recycled or renewable materials include recycled tires, cotton or woolen carpets, and rubber tiles. These or made from naturally generated materials such as cork dust, ground limestone, and linseed oil.
Textured flooring
Smooth floors may not stop being trendy any time soon, but textured flooring is becoming more popular. Wood planks, hardwood, and tiles may look distressed or get damaged like the reclaimed wood. The main benefit and goal of textured floor finishes is their virtual appeal and their ability to provide space with character.
You can find a flooring company offering porcelain and ceramic tiles can appear as natural stones in texture. Textured floors are also popular because they can easily add warmth and depth to your rooms and are stylish and aesthetically designed.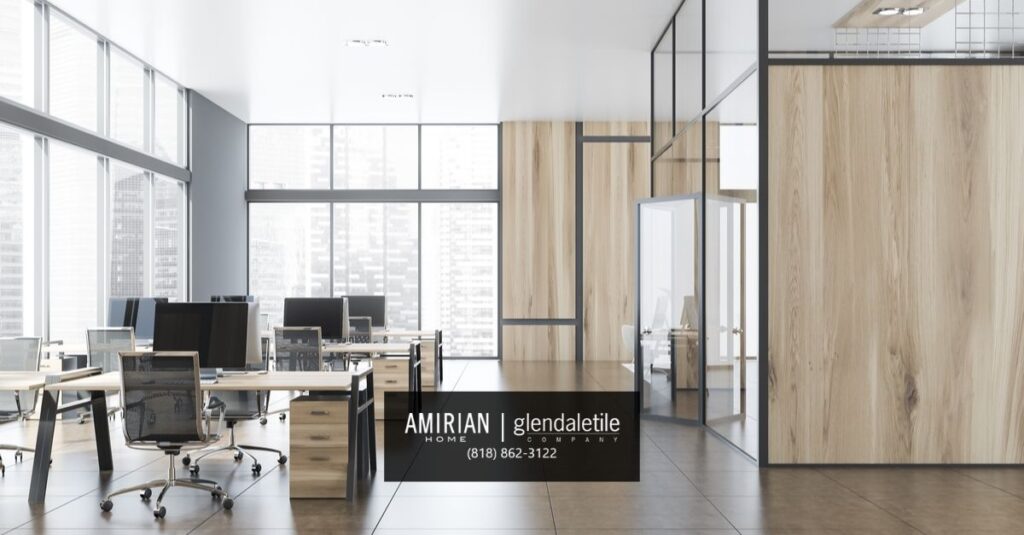 Contact experts
Floor tiles can be designed to give your home the excellent look you have always desired. You can buy tiles in Glendale and have them designed and installed in your home according to your specifications. Glendale Tile Company deals with high-end flooring products to give your home a nice finish and look. Call us on (818) 862-3122 now and find help from our team of experts.