You may think that shopping for tiles is easy. Just visit a tile store in Torrance and find the tiles that you want. Unfortunately, once you visit a shop, you will find endless choices that can be overwhelming. That's why before you even choose a tile, make sure to pick the one that makes a bold design statement. It means that it has to be the best tile that creates the perfect look that you wish for the space.
Tile Store in Torrance
: Choosing a Floor Tile Material
There are so many options to choose from. But you can start with these styles.
Wood Look Tile
Wood floors will make your kitchen look classic. However, wood flooring can be expensive, especially if you choose hardwood floors. If you want something that looks like wood, then you can pick wood-look tile. It gives your kitchen a gorgeous, modern look. Porcelain tile with a wood-like appearance will make this space look and feel rustic, casual, and comfortable. It is also low maintenance so you don't have to use expensive equipment just to clean the floor.
Natural Stone
Now, if you want a kitchen that has a rustic or polished look, then natural stone is your best bet. It is a perfect tile with old-world-inspired looks. When you visit Amirian Home's showroom, you will find tiles with realistic colors that run in random patterns. Or choose porcelain tile that mimics stone if you wish to have an easy-to-clean floor in your kitchen. It is also durable.
Concrete tile
This adds character to your kitchen. It is a great flooring choice if you want to give your kitchen a trendy, industrial bible. It also comes in various color tones. Plus, its durability is exemplary. You can find tiles with various shades that will surely match your kitchen decor. The floor tiles are available in large-format sizes, too.
Glazed Porcelain
Wish you live in a European house? You can transform your American-style house by simply using the right tile flooring. Glazed porcelain flooring is your best bet. It makes your kitchen look and feels like you're in Tuscany. It has a texture that makes it look as though it came from Italy. You can find glazed porcelain tiles in several shades to give your kitchen a modern Mediterranean style.
Dare to be Bold
There are various options when it comes to tile flooring in Torrance. You can dare to be bold and choose dark hues if you wish. However, before you even do so, make sure to talk to a designer. You may visit our showroom so you can find plenty of ideas on how to tackle your home renovation, especially the flooring part.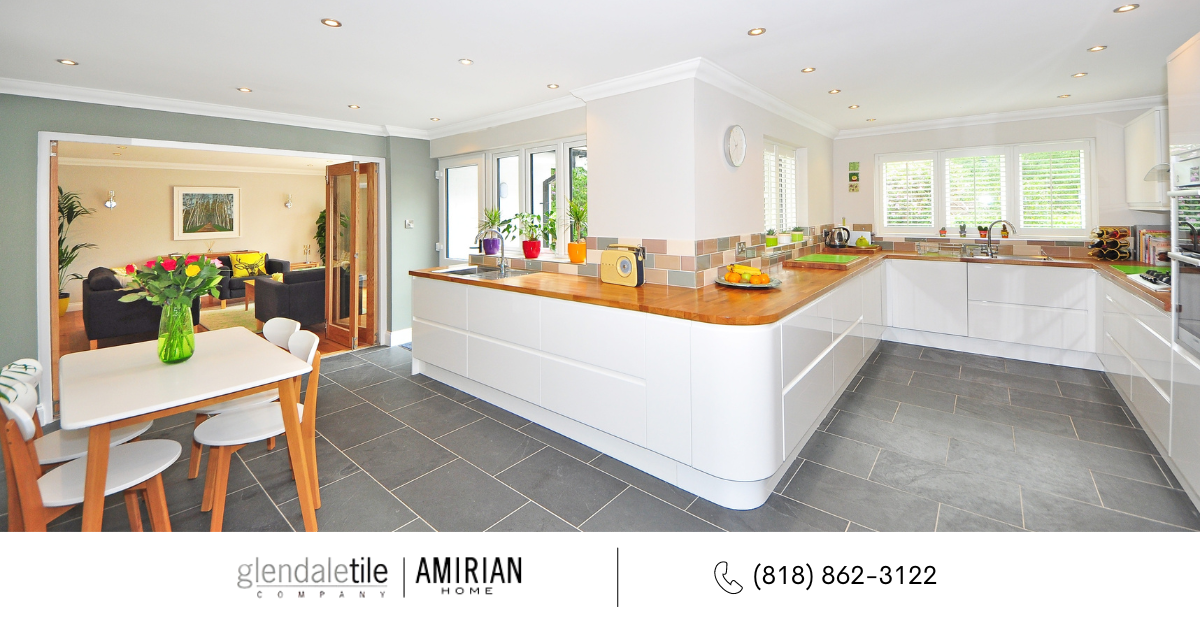 Get Some Inspiration
Visit our tile store in Torrance to give you various inspirations for your home renovation projects. Visit us or call us here first to know more: (818) 862-3122.