You can pick any tiles available on the market for your powder room. However, if you wish to show off your style, consider visiting kitchen and bath showrooms in San Fernando Valley to help you get some ideas on how to renovate this small bathroom.
Getting Ideas from Kitchen and Bath Showrooms in San Fernando Valley
Before you go shopping for tiles, make sure that you visit our showrooms. We can guide you in finding the right tiles for your powder room, bathroom, kitchen, etc. When you visit our showroom, you will get a glimpse of how the tiles will actually look like in your powder room.
What Tiles to Use for Powder Rooms?
There are many options to choose from. However, the most commonly used is ceramic. One reason is that ceramic is durable and has low upkeep. According to this HGTV article "Ceramic is best known for its durability: "There are still intact installations in the ruins of ancient Rome and Egypt," says Dave Gobis, executive director of the Ceramic Tile Education Foundation. "Pompeii has many examples of beautiful ceramic tilework that are still pristine after 2,000 years."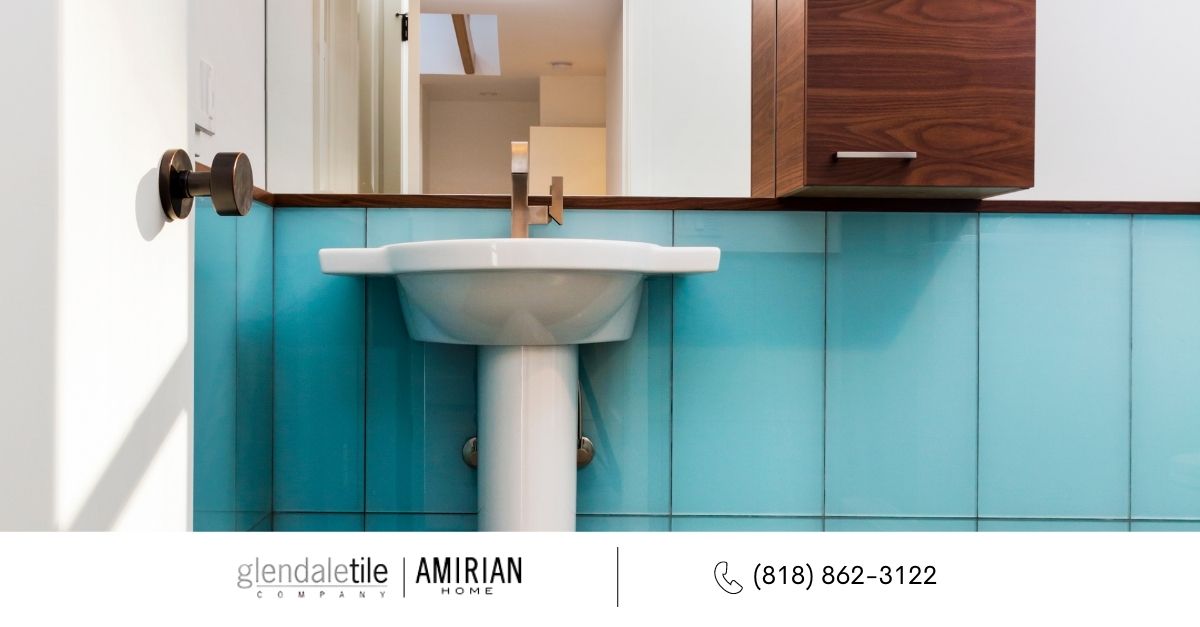 Benefits of Ceramic tiles
Besides its durability, there are other benefits and reasons many builders and interior designers choose ceramic tiles.
Stain-resistant. It doesn't stain easily. Thus, you don't need to worry about it becoming discolored after a few months or years.
Easy to clean. If there's a mess, you can quickly clean it using little soap and water.
Resistant to bacteria. Bacteria and other microbes don't want to thrive in it.
Antimicrobial. You can choose ceramic tiles with antimicrobial properties to suppress and destroy harmful organisms.
The Versatility of Ceramic Tiles
Installing ceramic tiles in your powder rooms is a wise option considering the many design choices available. You can pick the right color, layout, texture, and size. Whether you wish to find a style that coordinates with your overall home design or just want to employ strategic accents, ceramic tile can give it to you.
Where to Use Tiles in Your Powder Room?
You can install tile on any surface of your powder room.
Floor. The use of ceramic tile on your floor is ideal because of the tile's longevity.
Backsplash. It's one of the main attractions of this room. It's a piece of art that your guests will surely admire.
Accent Wall. Extend the design of the backsplash and create an accent wall.
Countertops. They are the most functional part of this room. Thus, don't forget the counter when renovating your powder and make sure that it stands out.
Need Interesting Tile Design?
If you are still looking for the right design for your powder room, let us help you. You may visit our kitchen and bath showrooms in San Fernando Valley. Discuss your ideas with us and our experts will guide you in choosing the right tiles. Call us to schedule a visit: (818) 500-7130.