The right vanity can make your entire bathroom come together. Vanities are important to a bathroom, as they make it easier to organize your bathroom and make it look how you want. Over the years, we've helped many folks to find that perfect bathroom vanity, the one that fits squarely into their bathroom aesthetic as well as their life. We have some of the best bathroom vanities in Glendale CA to choose from, so you're sure to find the right one for you.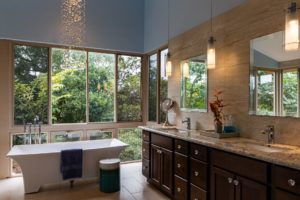 What a Bathroom Vanity Can Do
Simply by having a vanity in your bathroom, you make it that much easier to keep everything organized. Everything that otherwise might just sit on top of your sink can instead be organized within the vanity. No one wants to step into their bathroom and find clutter. With a vanity, everything can be easily stored below so that it will be easier to find when you need it again. This makes it easier to clean your bathroom when you have any company come by.
A Vanity to Add Value to Your Property
When people are looking to sell their home, they often try to think of easy, simple ways to improve the value of their home. One such way: having the right vanity. A vanity is a valuable piece of furniture, something that makes a bathroom "pop." In many ways, getting a vanity in your bathroom is a way of giving your entire bathroom a wholly new look. Sure, you could spend money on an extensive bathroom remodeling, and make your bathroom an entirely new place. That costs all kinds of money as well as time. Or, you can achieve a very similar effect simply from getting a bathroom vanity. Should you be looking for a way to differentiate your home from the rest, a bathroom vanity is an underrated way to do exactly that.
A Bathroom Vanity to Fit Your Life
We understand that not all bathroom vanities are the same. That's why we offer different vanities to fit different lifestyles. For example, if you have a family and children who are going to be using the bathroom, then you need a vanity that's plenty durable. Between kids coming in and out, that vanity is going to take a beating. That situation would be a different kind of vanity than a single person might need in their home.
Bathroom Vanities in Glendale CA for You
When you come to our showroom, we can connect you to the right vanity for your needs. You can walk around to take a look for yourself. If you have any questions, our trained, expert staff will be happy to answer them. Looking at pictures of vanities online is one thing, but to see them in person, to touch them and see them in different kinds of lighting, can let you know if they'd be a great fit in your home. To find out more, call us at (818) 500-8505.