At the time of selecting the right tiles for your kitchen, you will probably want to consider as many different options as possible. After all, kitchens are spaces that see a lot of foot traffic, both from inside and outside your home, so you want to make sure that it looks its best. There are plenty of different kitchen tile patterns that can help you find the look you are going for. Here are a few of the styles we have available.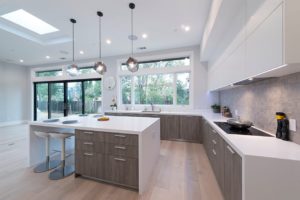 Line Patterns
There's something very elegant about the use of line patterns in tiles. After all, it's simple, straightforward, and versatile. There are two different types of lined tile patterns for your kitchen. On one hand, you have the stripes. These are fairly direct. The solid porcelain tile has solid stripes on them, which allow you to match the general color palette of your kitchen with two well-distributed shades of color for you to work with. Other linear patterns will involve relief and texture, such as those found in stone-like flooring. These give the space and the floor surface a very interesting look, for not only do they play with different color tones, but they also enhance the texture. Line patterns on tile can be simple and versatile at the same time.
Geometric Patterns
Tiles with geometric patterns are as varied as just about any other tile style. You can find just about anything. Circles, triangles, quadrilaterals, hexagons, and all sorts of shapes can be used to create interesting spaces through creative designs and clever uses of color. Maybe you want diagonal lines and abstraction. Maybe you'd rather have beehive-like hexagonal patterns. In the end, it's all about the kind of aesthetic you want to go for. Are you looking for the modern and simple look of elegant squares and rhombi? Or would you rather aim for the vintage feeling of interlocked shapes in different shades of color? There are countless options for you to make these patterns your own.
Rock Patterns
You probably already know that at the very height of elegance sit rock patterns. Nothing says sophistication quite like a subtle and tasteful marble pattern on the floor. Stone tiles, in general, can bring forth a heightened quality to your kitchen, raising your home's market value and improving upon the aesthetics of the room. Functional, easy to maintain, and beautiful to look at, stone kitchen tiles with distinct rock patterns are the top choice for a variety of different homeowners. This high-end alternative comes in such a wide variety of colors, patterns, and textures, that you are bound to find a stone tile option for your home regardless of the aesthetic you are going for.
Kitchen Tile Patterns
At the time of picking tile patterns for your kitchen, you will have no shortage of options. At least, you will if you trust us at Amirian Home to provide you with countless alternatives. We distribute tiles from some of the best-known tile manufacturers in the world in order to offer the best selections possible. Our catalog has hundreds of different kitchen tile patterns for you to choose from. For more information, browse through our online catalog, visit our Glendale showroom or give us a call at (818) 500-8505.