When you are building a new house or looking to renovate your existing one, you will wish for many options. There's nothing worse than completing a decoration project and the next day coming across something you believe would have been better suited to your style or design needs. What we are saying is to take your time and weigh up all the possible options available. At Amirian Home, we source the best bathroom tiles from the USA and Europe. That is why we have access to the widest possible range of products in our bathroom tile store in Glendale. It makes sense to make sure get the correct tiles for your bathroom project.
Impermeable Tiles
The greatest problem in the bathroom is moisture. It doesn't matter how careful you are while washing and bathing you will splash water around, especially with kids. You may have bathroom rugs, but they only absorb so much. The steam from baths and showers ensures moisture on your walls, not only around your bathtub or shower stall but on the walls of the whole bathroom. This runs down the walls and collects on the floor. So, to stop water seeping into and under the tiles you need impermeable products. Only waterproofed tiles should be used in bathrooms to prevent mold.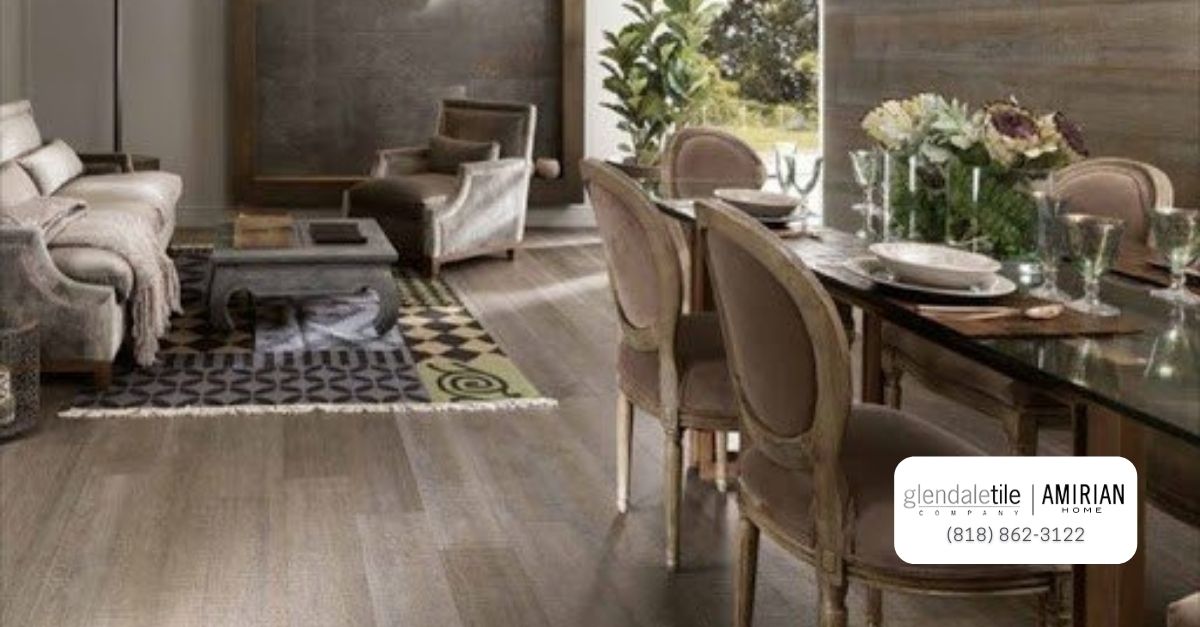 Non-slip Tiles
Another concern is safety. As bathroom floors are moist or wet a lot of the time, you want to consider non-slip tiles for this area of your home.
Vinyl Tiles
Vinyl tiles are a practical solution for bathrooms. Luxury vinyl tiles of today are much more aesthetically pleasing than the old kind that everyone ripped out years ago. They don't absorb water and are easy to clean. Apart from safety, they are comfortable and have a warm feeling under your feet.
Ceramic or Porcelain Tiles
Porcelain or ceramic tiles probably have the greatest range of styles, colors, and shapes. Ceramic and porcelain tiles come in all sorts of colors and shades. The designs range from square, mosaic, hexagonal, or round. There are even simulated wooden looks to go with more rustic motifs. Ceramic is scratch-resistant, which is good if you have children. The advantage of porcelain tiles is that the colors are baked throughout the tile. This is good in the case that tiles get chipped, which means you don't see any discoloration.
Both ceramic and porcelain have industry grading. It is recommended that when buying tiles for bathrooms grades 1 & 2 are the best options. They all have a COP, which means Coefficient of Friction or how non-slip they are. Buy 50+ rated tiles for safety.
Porcelain tiles come with a different type of rating. This is awarded by the Porcelain Enamel Institute. PEI 111 rated tiles are recommended for bathrooms.
There Are Plenty Of Options
We at Amirian Home guarantee that you will find the perfect tiles you are looking for at our bathroom tile store in Glendale. To get an idea of the range that we carry or for more information, visit our website.