Your kitchen, like all other rooms in your home, deserves to be decorated and designed in a way that works practically and aesthetically. One of the most important components of this will be the kitchen tile you end up going for. Let's go over some of the best out of the box ways for you to implement tiles in your kitchen.
Mid-Century Tile Designs
If you are looking for creative tile patterns for your kitchen, there won't be a better call than the mid-century approach. These trends pushed the more traditional approach to tile decor by implementing new shapes, patterns, and colors. This allows for triangular, circular, diagonal, and even rhomboid tile shapes to be used on walls and floors. Through these interesting uses of tile, you can give a lot of personality to the room, playing with color and shape to create your own aesthetic. Many even combine patterns, using them in different ways in order to break through the more boring and conventional designs for kitchen flooring that are generally available.
Diagonal Tile Layouts
Many people are way too used to grid layouts in their kitchen flooring. This makes sense, ofcourse, since it's almost always the default and it doesn't look bad. However, a great way of making your kitchen, and any room in general, more dynamic, will be by installing tiles diagonally. This finds its roots in the art principle that states that diagonal lines add dynamism and depth to two-dimensional surfaces. So, because of this, simply rotating the tile patterns on your kitchen floor can make the room seem a lot more open and lively. That's not to mention the contrast between the straight lines of counters, islands, and the walls themselves with those in the direction of the tiles.
Subway Tile Approach
Despite the images that the name might conjure up in your mind there is nothing underground or low-grade about subway tile. The style, which gets its name from the characteristic patterns in mid-century subway stations, is made out of usually horizontal rectangular tiles of various colors. Applying this style of tiling on the walls of your kitchen gives it a more upscale look, giving you more opportunities for decorating and making the space your own. Subway tile is a very common choice for those who want their kitchen to be more than just a purely practical location. It immediately elevates the kitchen in decorative terms and gives it a unique look.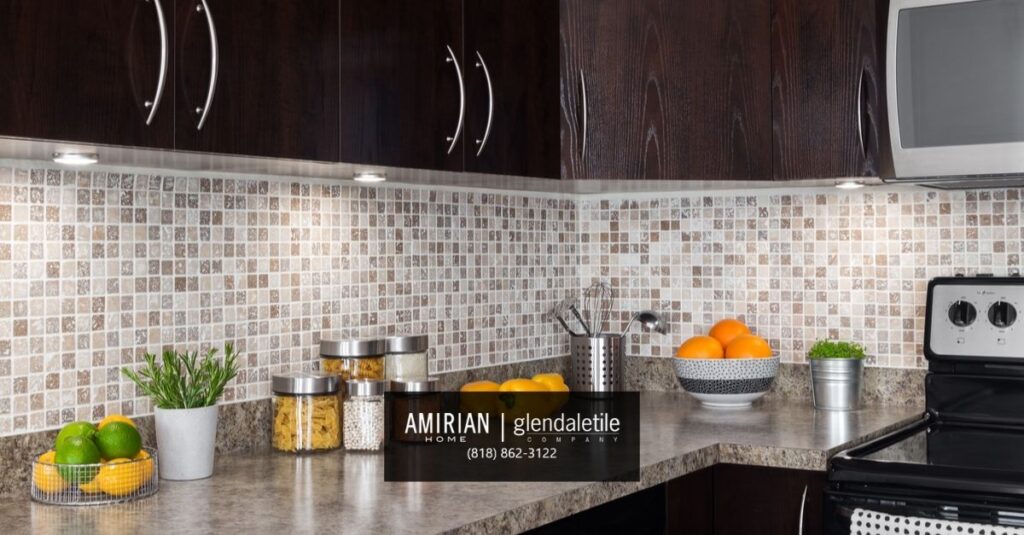 Find the Right Kitchen Tile For You
At Amirian Home, we are intent on helping you create the spaces that you've been looking for, be it by furnishing your kitchen or by providing the right flooring. So, if you are looking for the right tiles, or just about anything else for your kitchen organization, we will have exactly what you need. For more information about what we can offer, you can browse our website, give us a call at (818) 862-3122, or visit our showroom at 4116 San Fernando Rd. Our team is ready to set you up with the kitchen you've been dreaming of.