If you are building pleasant environments in your home for you to inhabit, you probably want to choose the needed materials from a selection of the best there is. This way, you will not only get the job done but it will also look good while it does. This is why so many people seek out Porcelanosa tile at the time of installing flooring for their home.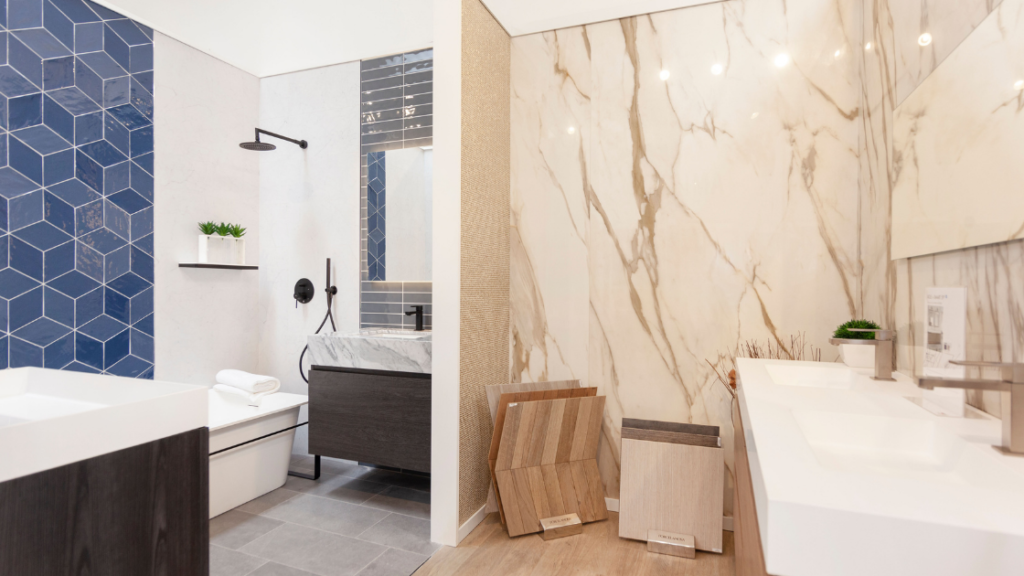 The World of Porcelanosa Tile
Now, the history of Porcelanosa goes back almost fifty years, where it started out in a small village on the Spanish coast of the Mediterranean Sea. A family-owned establishment both then and now, Porcelanosa has been providing its customers with architectural and design solutions since its inception. You can enjoy the tasteful design flourishes of the Spanish coast here in Glendale with the help of our team at Amirian Home. We make sure to import and distribute their unique collections here for your convenience, so allow us to introduce you to everything that Porcelanosa Tile has to offer for your bathrooms and your kitchen.
Bathroom
Porcelanosa has quite a lot to offer your home, designing delightful pieces and fixtures for your bathroom. Tasteful and functional bathroom vanities, sinks, showerheads and enclosures, and bathtubs, among others, are all in their catalog. However, they are perhaps best known for their tiles, which find the optimal balance between the visual and the practical use of flooring. You don't want your bathroom floor to suffer at the hands of humidity and moisture, but you don't want it to look purely functional and boring either. The Porcelanosa tile catalog will provide you with equally durable and beautiful tiles that will protect your bathroom from moisture and provide you with a comfortable environment in which to take care of yourself.
Kitchen
Just like with bathrooms, Porcelanosa has plenty to offer your kitchen. With their catalog, you can design wonderful spaces that allow you to do your cooking and eating in expertly designed comfort. However, we'd like to focus on the flooring. Unlike bathrooms, kitchens are going to expect a lot of foot traffic, so you want to make sure that the flooring you choose is resistant enough to handle that. Not only that, but you also want it to look good for visitors, to not be slippery when wet, and to be easy to clean and hard to stain. Seems like a lot to ask of some flooring, right? That's why Porcelanosa tile can set you up with beautiful flooring that can handle everything that's expected of it.
Amirian Home
Now, you don't have to travel to Spain to have access to the wonders of Porcelanosa tile, at least not when you are within a reasonable distance of us here at Amirian Tile. Whether you go to our Glendale showroom at 4116 San Fernando Rd. or our Hermosa Beach venue at 219-221 PCH, you will be able to find an extensive catalog that goes beyond just Porcelanosa tiles. To take a look at what we have to offer you, you can browse our online catalog to find the tile you are looking for or call us at (818) 500-8505 for more information.