Are you looking to remodel your kitchen? Do you want to enhance your bathroom space? Here at Amirian Home, we have many options to help you to do exactly that and so much more. That said, we offer more than just pictures and videos of tiles on a screen. At our kitchen and bathroom showrooms in Glendale CA, you can gain even more information on what might be best for your home.
A Haven for Choice
The allure of these showrooms lies not just in their products but in the hands-on experience they offer. Imagine perusing a vast array of products and styles, not just as pixels on a screen, but something real, something tangible, awaiting your touch and scrutiny. Here, you can witness the items up close and personal, a true advantage when making decisions that significantly impact your home.
Guidance, Inspiration, and More
We're quite proud of what we offer in our bathroom and kitchen showrooms. That said, we're especially proud of our staff. Knowledgeable, passionate, and ever-ready to transform your ideas into realities, our experts, with their decades of experience, can guide you.
Their expertise spans beyond the products; they offer invaluable insights, such as tile patterns, design nuances, and much more.
Selection Made Easier
You can come to our showroom with a clear idea of what you're looking for, such as contemporary minimalist designs, rustic charm, futuristic looks, etc. By that same token, many come to us just knowing that they want to improve their bathroom or kitchen. We can help with both as well as everything in between.
When you're here, we encourage you to, should you so choose, engage with our staff. Feel free to ask questions, to share your aspirations, seek their expertise, and more. Our showroom is not meant to be merely a display of products but a hub of knowledge. Indeed, our staff should not only answer your queries but to also provide solutions, and real insight that can empower your decisions.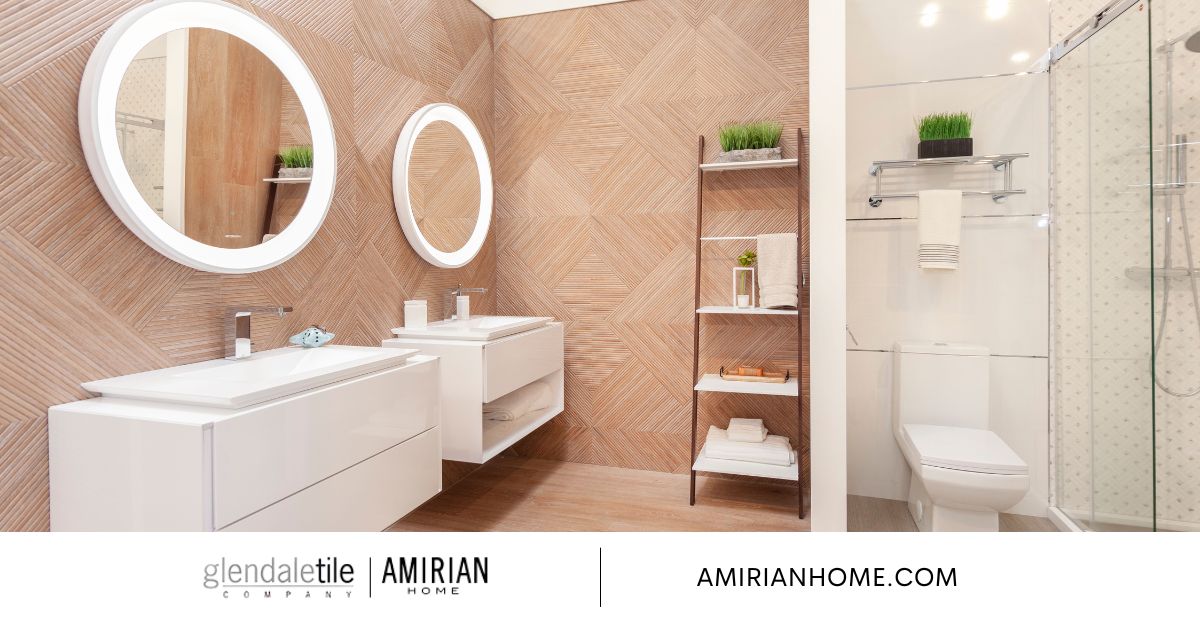 Amirian Home Kitchen and Bathroom Showrooms in Glendale CA
We believe that our showrooms should be exactly that: a room that shows. Specifically, it shows our offerings, what they look like in real-life settings, and so much more. Talking to our staff creates a dialogue where ideas collide, creativity thrives, and dreams take shape. We didn't hire our experts to be just sellers. They can serve as architects of your visions, sharing their wisdom to ensure your choices align with your budget and lifestyle.
In the heart of Glendale, CA, we designed our showrooms to be sanctuaries where dreams are nurtured, where ideas flourish, and where every visit becomes a step closer to crafting a home that reflects you. Let us help to make your kitchen and bathroom remodeling easier. To see everything that we have to offer, we encourage you to visit our site. While you're there, you can book an appointment in our showrooms as well.