You can find anything online now. Food, entertainment, communication, video – if you want it, it's online. We've often been asked some version of: "with everything online, why have kitchen and bathroom showrooms in Glendale CA?" After all, the pictures and descriptions of everything we have are online, where someone can check it from the comfort of their home or anywhere else. The truth is there are benefits to being in a showroom, ways to know if something truly fits your home or situation. At our showrooms, our tile flooring and more must be seen to be believed.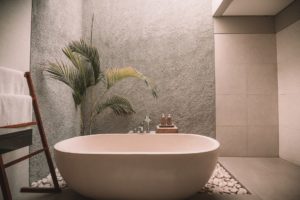 Trust Your Eyes
The last thing anyone wants is to buy something important, like tile flooring or a bathroom vanity, only to find that it's not a great fit in your home. After all, you get these kinds of things so that they'll last and you don't have to buy them again in a year (or less). Walking through our showrooms allows you to truly get a feel for them, literally so if you touch them. You don't have to rely on visualization, your "gut instinct" or anything like that. You can see for yourself exactly how they look, how they feel, and what they are.
Staff on Hand
We've been providing tile flooring and more for a long period of time. So, we know just about all there is to know about what kind of flooring and more goes best where. We understand that many folks have some idea as to what they're looking for. Our professionals are always glad to answer your questions. Whether you know exactly what you want and have for years, or if you just have some vague idea of what kind of tile flooring appeals to you, (or anything in between) we can help you to find something that fits you absolutely perfectly.
Extra Benefits of Tile Flooring
Many of the people who come to our showroom are genuinely surprised by some of the benefits to modern tile flooring. They may not realize, for example, just how good it is for the environment. In our modern era, everyone wants something that's ecologically-friendly, able to help the environment. Of course, everyone also wants a tile that looks great, too. We don't believe that you should have to choose between one or the other. You can get a fantastic tile that's good for the environment, too.
Kitchen and Bathroom Showrooms in Glendale CA
We've put so many great pictures on our site. You can see exactly what everything looks like. But, no matter how clear the pictures are, you can't touch them. You can't get that feeling that lets you know how it will be when you're walking on them when you step out of the shower, or when you're making breakfast in the morning and you're in a rush. You can learn all you need to know to make your best, most informed decision when you stop by our showrooms. For more information, give us a call at (818) 500-8505.