Modern tiles have undergone a major evolution and they now present design possibilities beyond imagination. You can create an artwork on your floor or wall using tiles to reproduce a carpet design, wood or leather texture, glass, and paper. There is a lot you can do with tiles to bring style into your living space and at Glendale Tile Company; we stock every imaginable type and high-quality tile selection for a new home.
Stone tiles
Before ceramic and porcelain, there was the natural stone tile that remains firmly grounded in home décor. Stone tiles are durable, easy to maintain, and possess a timeless aesthetic value that brings class and sophistication to your home. As you step out to buy tiles for home decoration, take time to look at natural stone tiles and their properties. They are perfect for floors, backsplashes, patios, backyards, and feature walls. Not only do they bring that rustic and luxury style into your home, but they also add to your home value.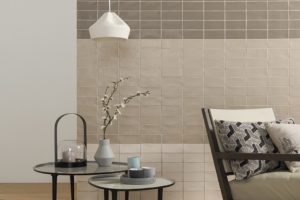 Concrete tiles
Concrete tiles are strong, versatile in shape and design, and very durable for high traffic areas such as driveways and backyards. At Glendale Tile Company, we have concrete tile options for all uses, including commercial and residential projects, in multiple colors, shapes, and sizes to suit every taste. Concrete tiles are not only durable; they are also aesthetically pleasing and functional both indoors and outdoors. Concrete tiles bring a contemporary look to any surface, be it the floor, wall, countertops, or even bathrooms.
Porcelain and ceramic tiles
The difference between these two is in the material grade and the baking process with porcelain coming out on top for quality. Porcelain tile is beautiful, easy to clean, and comes in a wide range of lovely styles that can complement any architectural design and homeowner taste. These tiles can be slippery, though, and one thing before choosing any of these at the tile store, be sure to check their COF slip ratings as published by the manufacturer.
Mosaics
You want to bring shine and glitter into your home, then think mosaic with its splendor of color, styles, and shapes for an exotic yet bold look for your living space. Mosaic tiles can add an accent to a stone subway or ceramic tile style while, at the same time, they make a great backsplash, adding charm and elegance to your kitchen. You want mosaics in your tile selection for a new home to bring in brilliance, color, uniqueness, character, and sophistication.
Styling
Working with tiles is a bit intricate and may go beyond the DIY concept and as such, you may consider working with an expert for best results. You want to spend your hard-earned dollars buying top quality tiles to achieve a commensurate style and look. To avoid disappointment, come to Glendale Tile Company for professional guidance on styling, product supply, and installation. You may schedule a visit to our showroom or call our experts for a consultation at (818) 862-3122