At the time of building, decorating, or remodeling their kitchen, a lot of people don't think much about tile. They are understandably more involved with the choice of appliances, counters, and the like, relegating tile to an "oh yeah, that." However, kitchen tile can be quite an important factor when determining the look of the room. If you think that there aren't a lot of things you can do to make tile your own, here are a few different ways for you to play with it.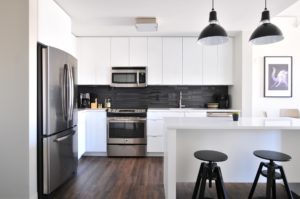 Diagonal Tile
A very underappreciated way of making a kitchen, or just about any space, more dynamic is through the diagonal implementation of tile. It is a principle of design, and of art in general, that diagonal lines add dynamism, depth, and energy to two-dimensional planes. This is why simply rotating the tile patterns on your kitchen can make it seem a little more open and lively. That's not to mention the contrast between the straight lines of counters, islands, and the walls themselves with those in the direction of the tiles. This disparity creates an interesting aesthetic look that can give a lot more personality to your kitchen, particularly if you coordinate the colors accordingly.
Mid-Century Tile
When it comes to implementing a creative tile pattern for your kitchen, there is roughly a better way to go at it than a mid-century approach. Mid-century design trends pushed the traditional approach to tile decor and began implementing new patterns, shapes, and colors. This allows for triangular, circular, diagonal, and even rhomboid tile shapes to be used on walls and floors. Through these interesting uses of tile, you can give a lot of personality to the room, playing with color and shape to create an aesthetic of your own. A lot of people even combine patterns, implementing it in different ways as a way of breaking through more conventional or even boring kitchen design trends.
Subway Tile
Don't let the name fool you, there is nothing low-grade or underground about subway tile. This style simply gets its name from the application of tile on the walls characteristic of a lot of subway stations in the mid-century. These tiles are usually horizontal rectangular tiles of various colors. By applying tiles on the walls of your kitchen can give it a more upscale look, giving you more opportunities for decorating and making the space your own. Subway tile is a very popular choice for those who use their kitchen a lot and want the room to be more than just a purely practical location. It immediately elevates the kitchen in decorative terms and gives it a unique glow.
Kitchen Tile
At Amirian Home, we are determined to match you with the ideal tile design for your kitchen. Regardless of the way you want to apply the tile design, we are here to provide you with the right one for your needs. You can browse our online catalog to find the tile you are looking for or call us at (818) 500-8505 for more information.