If you are considering a kitchen redesign, start with deciding what type of materials you will need, and compare that with our kitchen showrooms. From the floor, countertops, cabinetry, sinks, to taps you should have a clear picture in your mind before buying. We have a wide range of kitchen remodeling materials to choose from alongside experienced professionals to guide you. Having a professional to assist you, ensures that the materials you choose meet quality standards, and can blend perfectly when fitted.
The flooring
At Amirian Home, we stock a large selection of flooring materials that meet high-quality standards and in multiple designs. Our experts can help you choose the best from our top-grade hardwood polished to a lovely finish to brighten your kitchen floor. We also stock a large variety of laminate boards and vinyl that is aesthetically pleasing to the eye. Our experts will assist with installation for superior results should you engage our services.
The cabinetry
A quick scan through our inspiration gallery will give a good picture of the quality of our cabinetry works. Our design consultants will create functional and yet stylish cabinets for your kitchen from quality materials that we stock. We can also offer you contemporary shelf designs that are unique to move away from the traditional look. Depending on your preferences, we will give your kitchen cabinets either a wood finish or classy paintwork to bring out its character.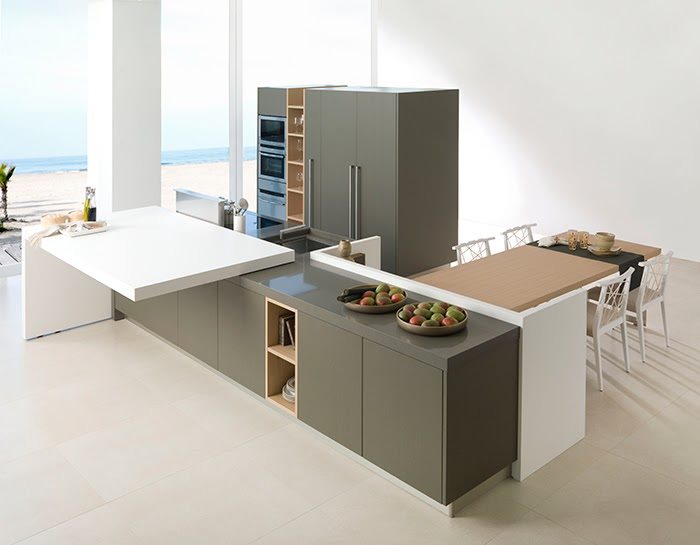 Sinks and taps
Visit Amirian Home to sample our exclusive range of kitchen sinks besides quality vanities for bathroom showrooms. You will be spoiled for choice when shopping for your kitchen remodeling at our stores. We source our sinks and faucets from leading brands and coupled with the expertise of our professional installation team you are guaranteed excellent service. We will not only recommend quality sinks and taps but also ensure that they aesthetically match the rest of the kitchen design.
Appliances
At Amirian Home, we stock top quality appliances including the Miele Line for whom we are authorized dealers. Installing kitchen appliances from one line ensures consistency of quality and ease of use. We will fit your stove and cooking area with an efficient hood extractor to keep your kitchen free of odor and moisture.
Final touch
To crown it all, we will install a fantastic backsplash of quality ceramic or porcelain tiles from our tile showroom. We have a wide range to choose from with multiple textures and colors to match your design theme. This should give your kitchen a unique character while protecting your wall from water and heat damage. Let our experts help you with the choice of materials to ensure you get quality results.
The kitchen is one of the busiest rooms in the house and you must pay special attention to quality and functionality when remodeling. Our experts at Amirian Home with long experience in home renovation are ready to help you remodel your kitchen. Call us at (818) 862-3662 for personalized assistance and free advice.