Have you been trying to determine which Kitchen Tile is right for yours? Does it seem like all of the tiles you look at more or less feel the same? When it comes to selecting tiles for your kitchen, there certainly isn't a one-size-fits-all answer. Everyone has different styles, needs, and more. Here at Amirian Home, we offer a wide range of tiles for your kitchen. That way, you can find the exact right fit for you.
Kitchen Tile for Your Style
Just about any size kitchen can benefit from tile. Too many think that tile is exclusively for larger kitchens. That's not the case. For example, if your kitchen is on the smaller side, opt for light-colored tiles that reflect light and create a feeling of spaciousness. Size, of course, matters, too. Smaller tiles can emphasize the room's compactness, larger tiles, on the other hand, give a feeling of space.
In terms of style, contrasting effects can make a bold design statement. You can make a statement by using the same tiles for both your wall as well as your floor in your kitchen, but be mindful of overly vibrant styles.
Safety First
In addition to style, you want a kitchen that's safe for you and yours as well. While the kitchen floor doesn't get as wet as the bathroom, it still has more than its share of spills and splashes. It's essential to choose tiles with the right level of water resistance. To do so, pay attention to the tile's porosity and whether it has a glaze.
Shiny, glazed tiles can be visually appealing, but they may pose slip hazards, especially in households with toddlers, pets, or seniors. You may want to consider tiles with more texture and grip to ensure everyone's safety. We can help you to find a tile that is the best of both worlds.
Styles of the Tiles in Your Kitchen
There are many, many different kinds of tile available. Ceramic tiles tend to be more porous than porcelain but can be sealed for improved moisture resistance. Natural stone tiles, such as sandstone, may look stunning but can also be less sturdy, making them vulnerable to chips from dropped objects.
Porcelain tile offers a combination of durability and resilience. These tiles are stain-resistant, require no resealing, and can be easy to clean. Mopping routinely with a flat mop is all that's needed to keep them looking pristine. In regards to safety, glazed porcelain tiles come in matte finishes, making them safe for the entire family. They offer an extensive range of styles, including realistic mimics of natural materials like marble and wood, providing both aesthetic appeal and practicality.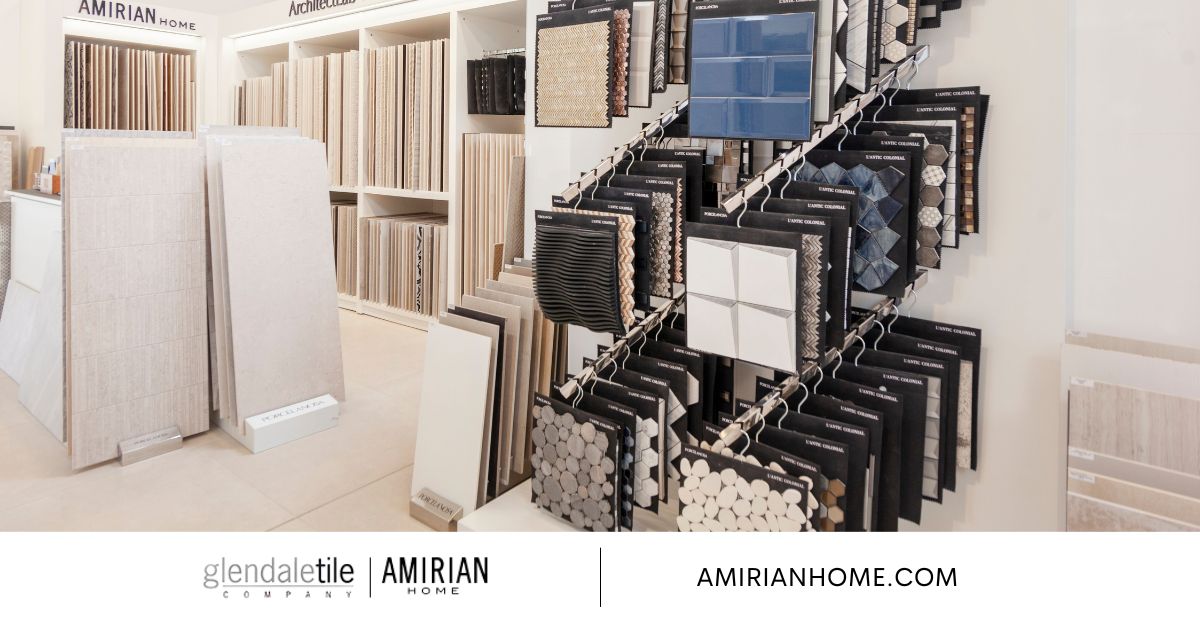 Amirian Home Showrooms
Selecting tile for the kitchen is an important decision, yet it isn't one that people tend to have to make all that often. Here at Amirian Home, we can help you to make the best decision but having all of the information you need. Reach out to us through our site or call.