The look of your kitchen will be determined by all sorts of different factors that balance aesthetics and functionality. For example, kitchen cabinets will be very important in terms of their use for storage as well as for their role in defining the look of the room in general. Let's take a closer look at what you will have to consider at the time of choosing these.
Determining How Much Storage You Need
Kitchen cabinets will, more than anything else, serve as storage spaces, which means that you need to determine how much space you're going to need. This will depend on the space you're working with, of course. For example, do you have a separate pantry or will your cabinets serve to store food as well? How much cooking do you do? How much kitchen equipment are you working with? Determining the amount of storage you need should be the first step in the process of picking out new cabinets, so be sure to consider that first hand. Based on this, you can determine the size of the cabinets, how many you need, and whether or not you need both above and below the counter ones or just below.
Organizing Your Kitchen Appliances
Cabinets will store a lot of things. All the cooking ware and dining ware you use will need to go in these cabinets. This includes pots and pans as much as plates and utensils. It will also include appliances that you may not want to keep on your countertops at all times, such as rice cookers, crockpots, and similar electronics that you don't use on a daily basis. And, as previously mentioned, if you don't have a pantry to work with, you will need to store your food in them as well. Choosing and distributing your kitchen cabinets should be done taking into account these factors and implementing them into the design of the space.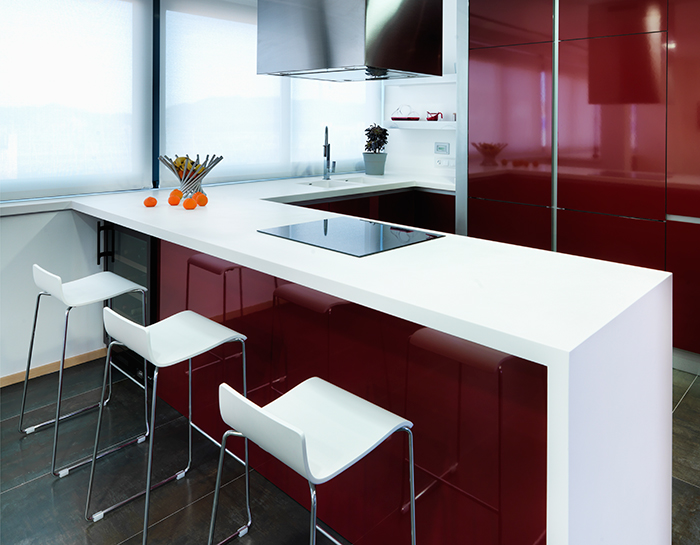 Define an Aesthetic
Now that you've considered your spacial and logistic needs, you can determine what aesthetic you're going for. What do you want your kitchen to look like? Given their size and placement, cabinets often have a significant say in what defines the look of the room. Do you feel like you're organized enough to have open cabinets? Do you want them to be polished white or do you have a stronger color in mind? There are many different ways in which you can play with color, surface, and texture to create compelling environments in your kitchen, so don't pass up the chance to do so. YOu're probably going to spend a lot of time in this room, so you might as well make it your own.
Find the Best Kitchen Cabinets
Here at Amirian Home, we always want you to find the right tools to build the rooms and spaces you've been dreaming of. We do so by curating the most complete catalog you will find. Whether you are looking for kitchen cabinets or bathroom vanities, indoor or outdoor tiles, you are going to find something that works with your vision. Just visit our showroom at 4116 San Fernando Rd and take a look for yourself. Of course, you can also browse our online catalog to find the right cabinets for you or call us at (818) 500-8505 for more information.