If you are looking for tile flooring in Glendale, you will need to take into account where in your home the tiles will be and what environmental factors to take into account. Whether you need outdoor tiles or indoor ones, we at Amirian Home will have the tiles for you.
Outdoor Tiles
When it comes to outdoor tiles, one needs to consider the material and the durability when exposed to the elements twenty-four hours a day. Rain and sunlight won't be a problem for your indoor tiles, but they will definitely be an important factor that your outdoor tiles will be dealing with. Once again, you need to make sure that you bring humidity into the equation. If your tiles absorb water, will the winter freeze it and crack the tile in the process? Will your tiles absorb or reflect sunlight? For the sake of your comfort and the preservation of the tiles you pick, consider environmental factors. All you need to do is describe the conditions when looking for tile flooring in Glendale and they will be able to help you determine the best choice.
Indoor Tiles
When picking the flooring for your home, you might not first think of the tiles. You will think of the wooden floors of the living room and the carpet of the bedroom, but you might not first think of your bathroom or kitchen tiles. But can you just pick the same for both rooms? We suggest you don't.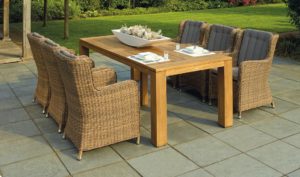 Kitchen Tiles
What is the biggest concern when it comes to kitchen flooring? Well, you probably want to take into consideration spills, water, and texture. You don't want flooring that stains easily in your kitchen, nor do you want a floor that easily becomes slippery. That's not to mention that kitchens usually see a lot of foot traffic, so the floor needs to be durable and resistant. Ceramic tiles are a very common choice, but stone tiles are often considered to be the stronger alternative. They can both be excellent choices, however, as long as you make an informed decision based on each specific model.
Bathroom Tiles
Similarly to kitchens, bathroom tiling needs to be very resistant in terms of humidity. When looking for tile flooring in Glendale, you will have to find tiles that won't absorb a lot of water and, therefore, accumulate moisture. You want something that will not give way to mold or allow for a stuffy environment. In warm weather, this might make it difficult to breathe in the bathroom, while in cold weather the room temperature in your bathroom might drop quite a lot. By choosing the right tiles, you can avoid these problems and create an environment that is ultimately very pleasant and comfortable for you and your household.
Tile Flooring in Glendale
Here at Amirian Home, we are set on providing you with the best tile flooring for your home. Regardless of the room that you need tiles for, we are here to provide you with the right material and design for your needs. You can browse our online catalog to find the tile you are looking for or call us at (818) 500-8505 for more information.