Upgrading your home can take a lot of work. You need to make your home unique, stylish, and durable. One way to achieve all of these is to install tile flooring. Do you know what to choose though? If not, why not swing by our store for tile flooring in Glendale? Our showrooms can show you different styles of tiles for kitchens, bathrooms, and other areas of a house.
What are Your Options for
Tile Flooring in Glendale
in 2022?
The coolest thing about tile flooring is the countless options available. Tile manufacturers have made tiles with more options unlike they were before. In 2022 and beyond, expect traditional wood and stone tile to dominate the market. Concrete looks have become more popular. The wood look remains strong.
Tiles That Look Like Wood
Ceramic tiles were known for their resemblance to natural stone. With so many options available, you can find tiles that have mastered the art of disguise. It is no wonder that tile that looks like natural wood is the hottest thing on the market. Manufacturers have managed to mimic wood flooring trends with textured looks. The most popular texture today are lookalikes of solid hardwood and wood.
Distinguishing Qualities
Wirebrushed wood-look tile has the appearance of wire stretches that give the heart of the wood. The imperfections are smoother and more consistent than distressed wood looks. Rustic wood-like tile also features the appearance of ingrained scrapes. Every plank appears handcrafted and unique.
Another style of tile to choose from is distressed wood-look tile. It is often mistaken for its handcrafted looks. Although this type of tile appears to have been through a lot of wear and tear, it adds beauty to the overall design of your house. You can see the scrapes, wormholes, knots, etc. Opting for this type of wood-look tile can add work to your wood tile floor.
Is Stone-Look Tile Flooring Ideal?
It is popular in kitchens and bathrooms. Tile manufacturers are offering a better appearance. They go above and beyond to make convincing stone looks in limestone and travertine. If you want to give your house a timeless stone look, make sure to stick to marble or limestone. They look clean and elegant. They can also hold up to the increasing wood-look competition. Its domination may last beyond 2022. Wood looks will dominate the market in the next 10 years. But natural looks will never fully go out of style.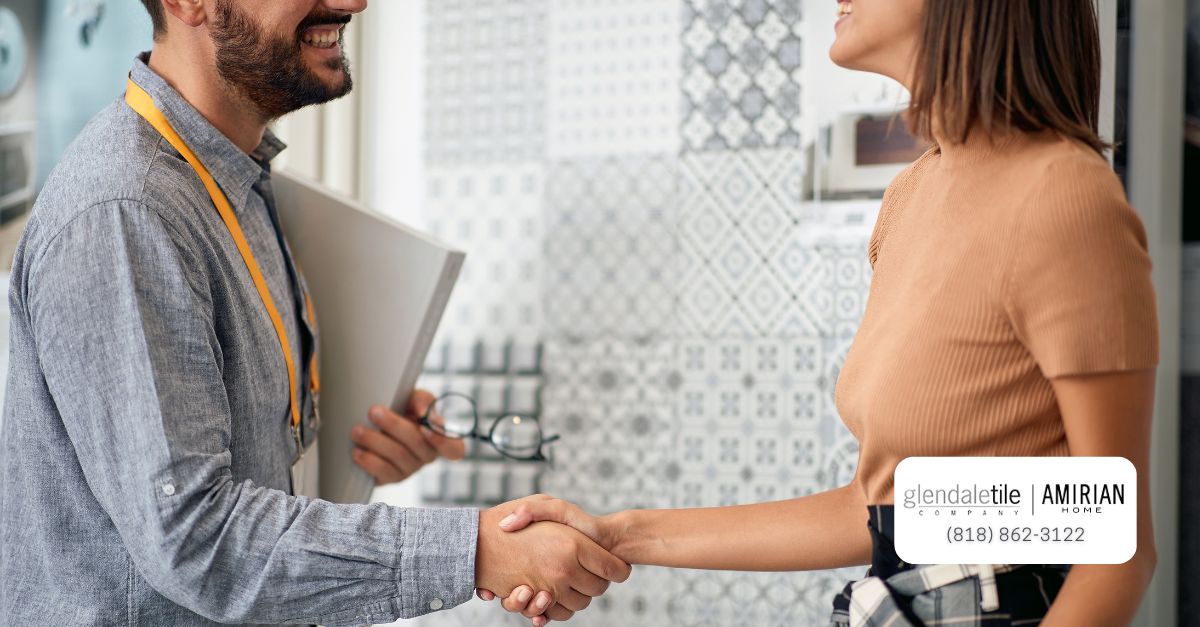 Marble Tile Flooring
This, too, will dominate the market. It offers a bright, clean, and elegant appearance. Marble flooring can be expensive. But not if you choose tile flooring that looks like natural marble. Marble looks offer refined elegance. Ceramic tile flooring is durable and less expensive. You can also access it easily.
To find out more about tile flooring in Glendale, please visit our showrooms today. Or you may call us here: (818) 862-3122.