When it comes to interior design and home décor, few elements can transform a space as dramatically as floor tiles. In 2023, Glendale Tile Company is at the forefront of flooring fashion, showcasing the most innovative and stylish floor tile designs for the year. Whether you're renovating your home or starting from scratch, these top 10 trending floor tile designs will inspire your next project.
Timeless Elegance: Marble-Inspired Tiles
Marble-inspired tiles are making a grand comeback in 2023. These timeless classics exude luxury and sophistication. Glendale Tile Company's collection offers a variety of hues and patterns, from classic Carrara to bold black marble, allowing you to create a truly opulent space that stands the test of time.

Nature's Palette: Earthy Tones and Textures
Nature-inspired tiles are all the rage this year. With a focus on sustainability, these tiles bring the warmth and serenity of the outdoors into your home. Glendale Tile Company offers a wide range of earthy tones and textures, from rustic terracotta to serene forest greens, providing a harmonious connection to nature within your living spaces.
Industrial Chic: Concrete Finish Tiles
For those who appreciate an urban aesthetic, concrete finish tiles are a must-have in 2023. Glendale Tile Company's concrete-inspired tiles capture the essence of industrial chic, offering durability and a modern edge. Perfect for minimalist designs and loft-style interiors, these tiles bring an edgy sophistication to any room.
Bold Geometry: Geometric Patterns
Geometry takes center stage in floor tile designs this year. Create eye-catching focal points with geometric patterns from Glendale Tile Company. From intricate mosaics to large-scale geometric shapes, these tiles add a sense of artistic flair and dimension to your floors.
Vintage Revival: Retro Patterns
Nostalgia meets contemporary design with the resurgence of retro tile patterns. Glendale Tile Company's collection pays homage to the past with a modern twist. From colorful encaustic tiles to playful hexagonal patterns, these tiles infuse a sense of whimsy and charm into your spaces.
Biophilic Beauty: Botanical Tiles
Bring the serenity of the outdoors indoors with botanical tiles. Glendale Tile Company's botanical collection celebrates the beauty of plants, leaves, and flowers. These tiles not only enhance the aesthetic of your space but also foster a sense of tranquility and well-being.
Artistic Expression: Hand-Painted Tiles
Elevate your flooring to a work of art with hand-painted tiles. Glendale Tile Company's artisanal collection features exquisite hand-crafted designs that are as unique as you are. From intricate motifs to custom creations, these tiles allow you to express your individuality in your home.
Luxurious Leather: Leather-Look Tiles
Luxury knows no bounds with leather-look tiles. Glendale Tile Company offers a stunning range of leather-inspired tiles that combine the richness of leather with the practicality of porcelain. These tiles add warmth and opulence to your floors, creating an inviting atmosphere.
Sustainable Chic: Recycled Material Tiles
Sustainability is a top priority in 2023, and Glendale Tile Company is leading the way with recycled material tiles. These eco-friendly options not only reduce environmental impact but also offer unique textures and colors. Go green with style and conscience.
High-Tech Marvels: Smart Floor Tiles
The future has arrived with smart floor tiles. Glendale Tile Company's innovative collection includes tiles with built-in technology, such as heating elements or interactive LED displays. These tiles combine functionality with cutting-edge design, making your home a true technological marvel.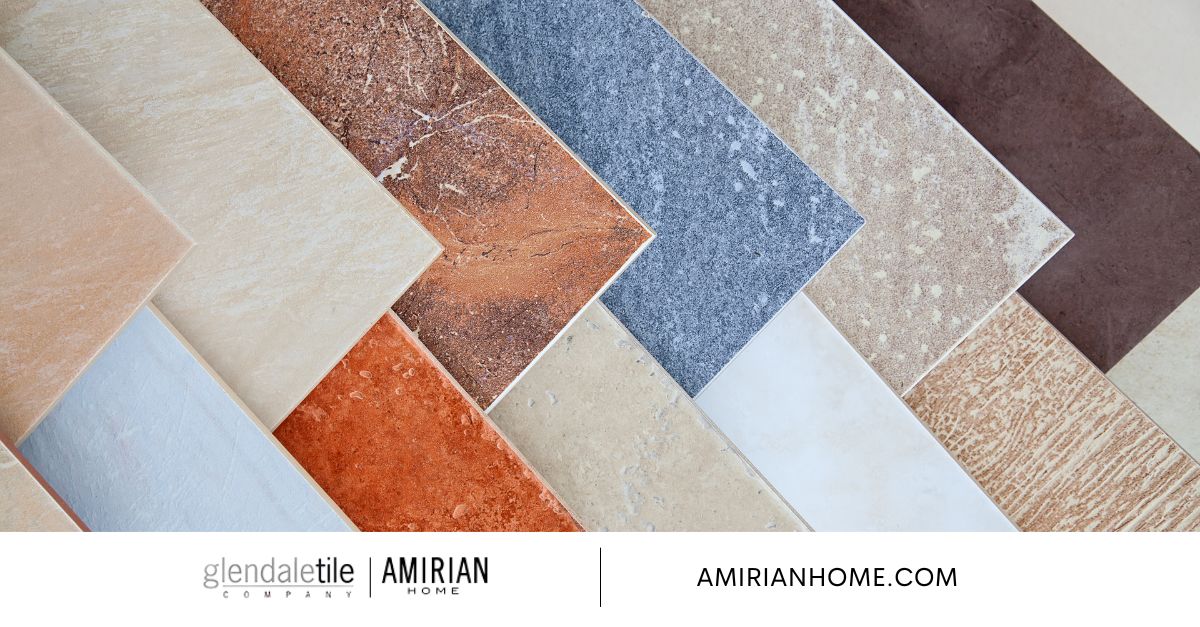 Elevate Your Space with Glendale Tile Company
In 2023, floor tiles are more than just a practical choice; they are a statement of style, innovation, and personality. Glendale Tile Company's top 10 trending floor tile designs for 2023 offer a diverse range of options to cater to every taste and preference. Whether you prefer classic elegance, modern minimalism, or sustainable living, our collection has the perfect floor tiles to transform your space into a work of art. Explore our showroom and embrace the future of flooring with Glendale Tile Company.
Are you ready to make a statement with your floor tiles in 2023? Glendale Tile Company is here to help you elevate your space. Contact us today for a consultation and discover the endless possibilities of floor tile design.