Yes, it's perfectly safe to use floor tiles on the fireplace. Doing so will make your fireplace a mood setter. It also becomes the center of your living room. Tiles are great options for your fireplace. However, there are things you need to consider.
Where to Put Floor Tile for the Fireplace?
The fireplace has three parts.
The firebox is the area where the fire takes place. It's made of appropriate materials to meet building codes. You can't put tiles in the firebox.
The surround is the front portion of the fireplace. Its location makes it the most visible part. But it has to be durable to handle the heat while still looking good. You can put tile in the fireplace surround.
The hearth is below and in front of the firebox. You can also install floor tile here, while the rest of the room is wood or carpet. Installing floor tile in this area will protect this section, which is typically subjected to embers, sparks, and other debris.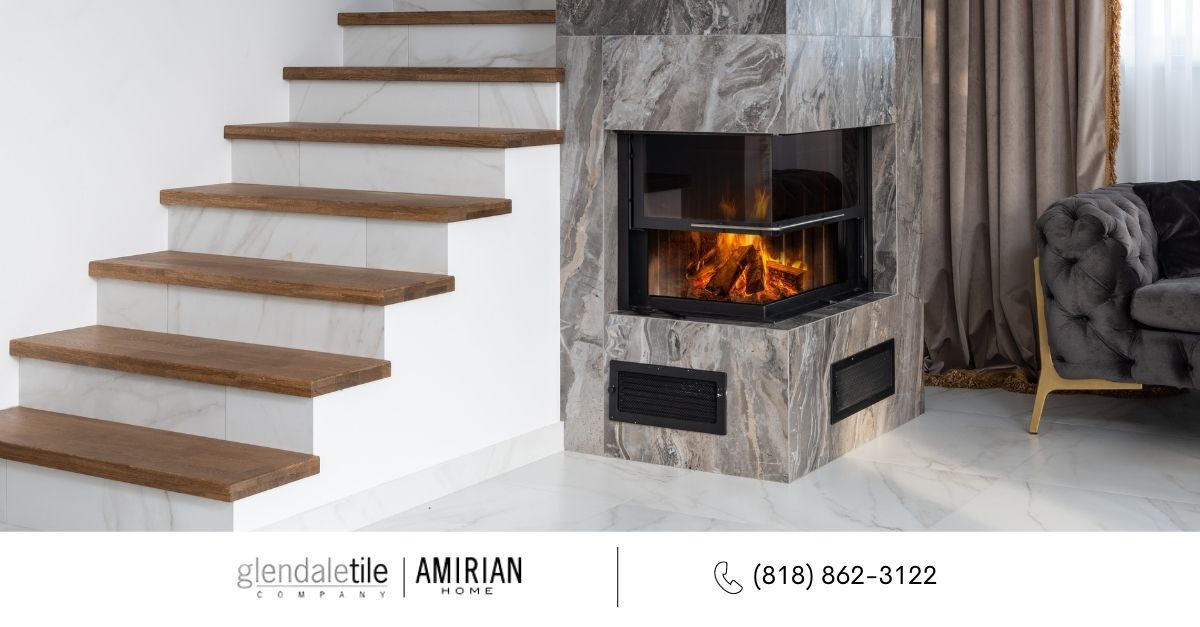 What Tiles to Use for the Fireplace?
Whether you use floor tiles or wall tiles, the most important thing to remember is to ensure that tiles can endure high-temperature. You may choose a tile that can be used as a backsplash tile, which is typically made to withstand higher temperatures.
Here are some heat-resistant tiles you can use for the fireplace.
Porcelain
It's a great option for this application. Porcelain is fired at a higher temperature. Hence, it can stand up to high temperatures, just like ceramic. Because of porcelain's popularity, it has more options now. If you want a seamless look, you can opt for extra-large porcelain slabs.
Ceramic
Decorative tiles were popular in the 10th century. In that case, ceramic tiles have been used on the fireplace for hundreds of years. They are durable and can withstand heat well. However, make sure to choose a thicker tile to give it extra durability.
Quartz
It's typically the best choice for countertops because they can withstand everyday life. With that, it makes it ideal for fireplaces. It's also easy to clean. You can choose fire-resistant options, like natural stone, concrete and metallic.
What Colors of Tiles to Use?
Now that you know tiles are perfectly safe to be used on fireplaces but not in the firebox, the next step you might want to tackle is to choose a tile design. There are various topics to choose from.
One is to opt for white tile. Having a white tile fireplace can go with any decor. You may wish to have a farmhouse look or a minimalist interior. One thing is for sure — a white tile fireplace can give substance to the area.
But there's also something cozy about a black tile fireplace. The dark color can create an intimate mood. The color of the flames dominates when contrasted with black tiles.
Need More Ideas?
To further help you get started, you may visit our floor tile showroom. Contact us through our website to know more about how to visit us.