Flooring is a vital part of any space in your Glendale home. The good thing is that there are many great options that you can choose from. Because of the various choices available, it is easy to feel overwhelmed. In this post, we'll talk about the Glendale flooring trends that will be popular in 2023.
Glendale Flooring Ideas to Consider in 2023
In the past, homeowners had limited options for flooring. They could choose hardwood, vinyl, laminate, or tile.
Hardwood Flooring — the Classic Choice
The industry is optimistic for 2023. Its sales are expected to go up significantly. This is a classic choice that can add warmth and charm to your house. One of the trends that are expected to stay in the large-format wooden floor. Wide formats with long planks are said to dominate the view in various interior design projects. This type of flooring offers stability and durability. These factors can improve the value of your property.
Laminate Flooring — Budget-Friendly
This type of flooring is cheaper than hardwood flooring. Many interior designers consider laminate flooring that returns to antiquity. Modern laminates are designed for medium and high loads. They are cheaper than parquet but they don't differ in characteristics and design. A rustic floor is considered to be fashionable in 2023. Some designers are choosing lamellas that come with visual irregularities and wavy patterns. They can make your interior more comfortable.
Vinyl — for Waterproof and Durability
This year, many homeowners in Glendale embraced the benefits offered by luxury vinyl tile. In that case, in 2023, vinyl flooring will definitely be big news. Experts believe that textile-backed vinyl will be popular in 2023 as more and more customers will continue to invest in durable floor coverings while still embracing style and design. For the colors, homeowners are choosing warmer tones, instead of grey woods. The pattern is also making a wave particularly blue shades and monochrome. Beiges are still popular but they are slowly being replaced with more vibrant options.
Tile — Popular for Kitchens and Bathrooms
Tiles are popular choices for kitchens and bathrooms because they come in a variety of sizes, finishes, and colors. Wood-look floor tiles will still dominate because they recreate the look and feel of real wood without the high price tag. They feature the beauty and warmth of real wood. Tiles are easy to maintain and more durable than other flooring options. If you think that wood-look floor tiles are hackneyed, try matte floor tiles. Over the past few years, they have become more popular. They are sleek and stylish, making them a favorite among interior designers.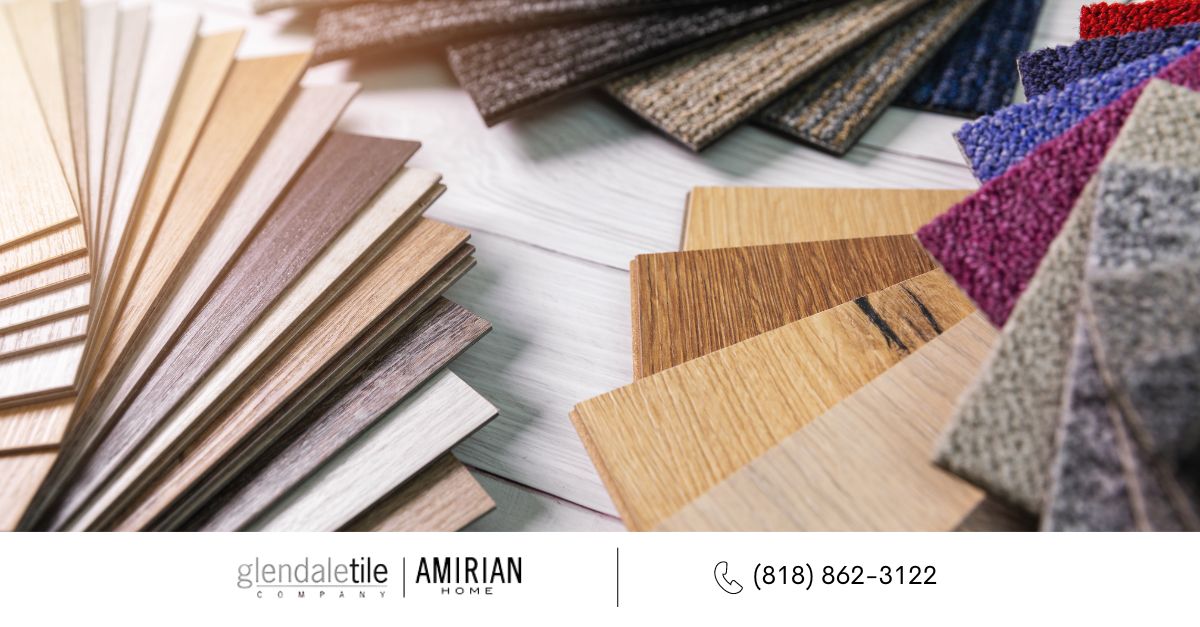 Trendy Flooring Options
There are countless options for flooring in 2023. It is up to you to consider which ones will suffice your interior design. Whatever option you pick, make sure to do your research. Consider various factors, such as cost, maintenance requirements installation difficulty, etc. Good luck with your project!
Ready to shop for the right flooring in your Glendale home? Give us a call today to know more about the premium quality flooring options we offer: (818) 862-3122.