Sadly, there is no one-size-fits-all answer to this question. The reason for this is that the best Glendale tile for your floor will depend on various factors, including your budget, design aesthetic, and the foot traffic in that area.
Most Affordable Glendale Tile
Ceramic tile is one of the most inexpensive flooring options. Per square foot, it only costs less than $1. This type of tile is durable so it's ideal for the kitchen and rooms that receive heavy traffic. But look for ceramic tiles with a 3 PEI scale rating.
Porcelain is a good option for bathrooms, kitchens, and other damp areas. Compared to ceramic, it can repel water better. It costs slightly more per square foot than ceramic tile, but it wears better.
The Best Floor Design Aesthetic
The right floor tile design can help transform a space. You can choose an art-inspired tile.
Consider tiles with a tropical touch. This design requires the use of small hexagonal tiles in teal color.

Have you seen checkerboard flooring? It is timeless. It's one reason it has been featured many times in movies. You may choose this design but you can add a tad of twist. Consider a marble version to give the area a softer look. It can help in livening up a narrow kitchen, for instance. Or you can choose a muted color palette. This is ideal in a bathroom that has mixed metals. Muted colors can add interest but they don't overpower your space.

Opt for a playful design. Tiles can have a playful design and finish to give the area a fun atmosphere. You can complete this log by adding old-school fixtures. This kind of look is perfect in your bathroom with a freestanding marble tub.

You can also choose a sophisticated and neutral design. Opt for offset triangles to make the tiles more interesting. The marble tile pattern can offer a perfect balance between impactful and sophisticated.
Foot Traffic in the Area
Another thing to consider when shopping for tile flooring is the traffic volume where you wish to install it. Glazed ceramic tile and porcelain tile are great for the kitchen. Glazed tiles are fired twice. During the second firing, the tiles are given a protective coating to repel moisture and water. Thus, they are better than unglazed tiles.
However, not all glazed tiles have a shiny finish. You can opt for a matte-finish look in a glazed tile. It's a tile that can hold up well in high-traffic rooms. Hence, this is perfect for bathrooms, laundry rooms, and communal spaces.
For a textured finish, rather than a smooth finish, opt for porcelain flooring tile. It can add a perfect textural element to the space. Porcelain tile can be glazed with a matte finish. It's ideal for the kitchen and other parts of the house that are exposed to spills and dampness.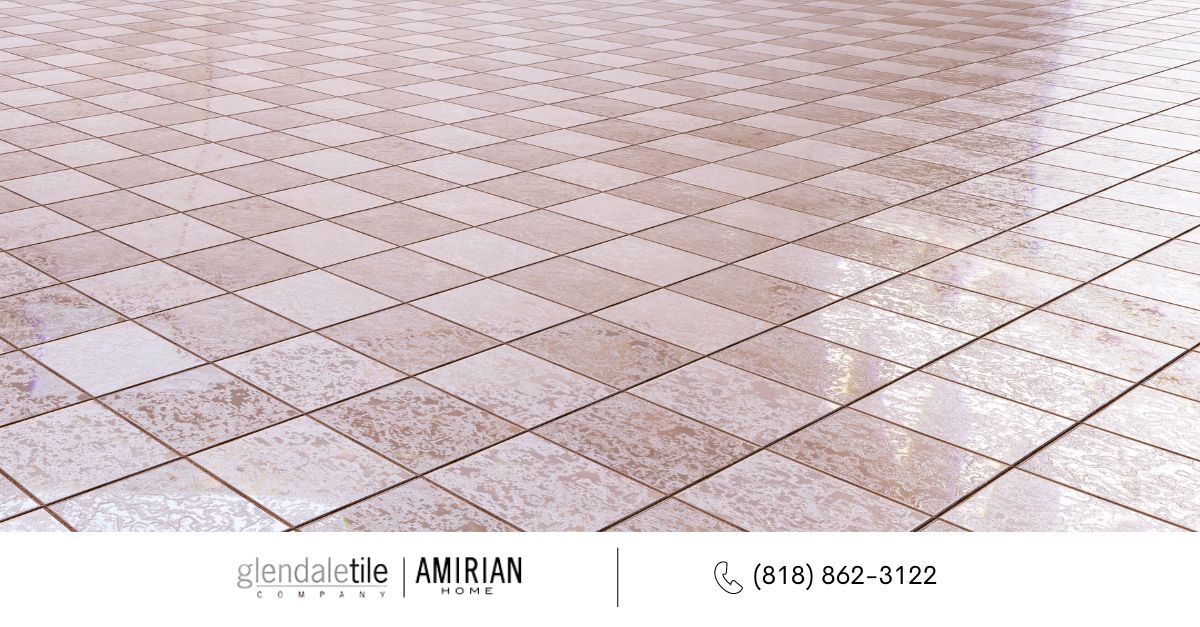 Why Choose Tile Flooring?
Tile flooring is a wonderful option for any type of home or commercial space. It is durable and easy to clean. It can also last for many years as long as you maintain it properly. Plus, it is available in a variety of colors and styles. In that case, you can find tiles that will surely match your home's decor.
If you are in the process of shopping for Glendale tile flooring, make sure to give us a visit. Or call us first to know about what we offer: (818) 862-3122.