To create more living space outdoors, many homeowners now are opting to build an outdoor kitchen. One great thing about it is that having an outdoor kitchen lets you enjoy looking at the beauty of nature while preparing meals for your loved ones. To give your outdoor kitchen a wonderful look, try installing kitchen tile. But what tile to use?
Kitchen Tile for Outdoors
Ceramic tile can give you appropriate options for your outdoor kitchen. Keep in mind that the ceramic tile family has many members, including the following:
Porcelain
Quarry
Pressed
Mosaic
They can all give you the appropriate design for your outdoor kitchen. Every subset of the ceramic tile has the general benefits of being a ceramic. But each is produced differently. It has also its own advantages that make it ideal for certain applications.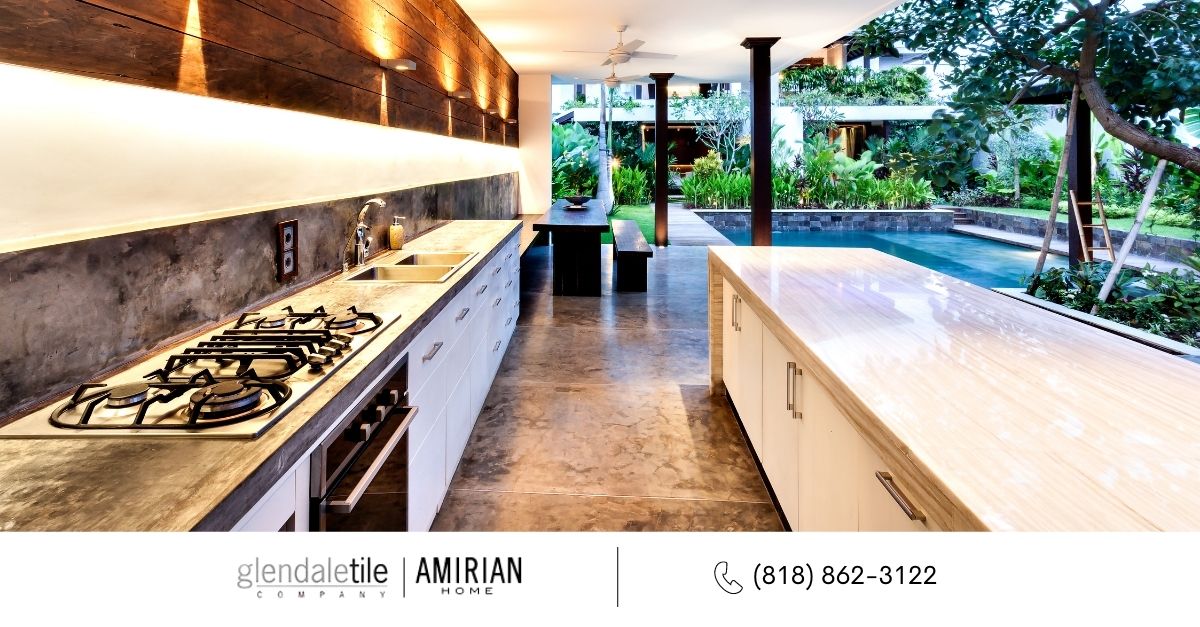 Porcelain Tile for Outdoor Kitchen Flooring
When choosing the right tile for your outdoor kitchen flooring, you need to select a water-resistant tile. Remember that an outdoor kitchen is prone to extreme weather and fluctuating temperatures. Thankfully, porcelain and ceramic tiles are water-resistant. It means that they won't warp or degrade because of moisture. Furthermore, they can withstand repeated freeze-thaw cycles.
Tile Countertops
Your countertops can allow you to show off your gorgeous tiles in your outdoor kitchen. Opt for gauged tile panels or slaps. Their large size allows them to look like huge slabs of natural stone. Ceramic tiles are durable, even when they are exposed to unknown elements, like falling branches. Thus, they make them great for outdoor tile countertops.
Outdoor Bar
Are you planning to have an outdoor bar in your outdoor kitchen? This is actually a wonderful idea, especially if you like to host parties or invite friends over the weekend. The outdoor bar is a great place to hang out with your friends. You can serve your favorite cocktails. There's no need to worry about water spills when you choose to install ceramic tiles for your outdoor bar. You can easily wipe spills with a cloth. Or you may use a neutral cleaner specifically made for tile and grout.
Swim-Up Bar
Do you have a pool? Well, why not build an outdoor kitchen next to the pool to give you a swim-up bar. With the right tile, you don't have to worry about water damage from the pool. Having porcelain or ceramic tiles on the swim-up bar is an ideal option because this tile is water-resistant. It also won't fade by poor chemicals.
Outdoor Stoves and Ovens
Your outdoor kitchen is non-functional without stoves and ovens. Choose to tile around the areas of your conventional oven or a stove. When expose to fire, ceramic tile won't produce smoke or burn.
Visit Our Showrooms Today
For more outdoor kitchen tile ideas, please visit our showrooms. Our experts will be there to guide you on how to pick the right tiles for this area of your house. Call us for more inquiries: (818) 862-3122.