So, are you going to go for tiles this time when you renovate your kitchen? Or maybe you are going to redo your bathroom? It doesn't matter which. Building new or redecorating with tiles is always a good option. There are so many to choose from that you won't have any trouble finding the style or effect that you want to achieve the overall look of your decorating scheme. We here at Amirian Homes & Glendale Tile can assure you that you will find the greatest range of choices from all the kitchen and bathroom showrooms in Glendale CA.
Types of Tiles You Will See
Stone:
If you want to go for a natural look, then stone tiles are recommended. The beauty of stone tiles is their completely natural color which will vary in shade and tone. Many have textured finishes and the veins and strata lines are often visible which as natural, quarried products is to be expected. Natural stone tiles are a good choice when you are using earthy colors in your decor theme or want something neutral.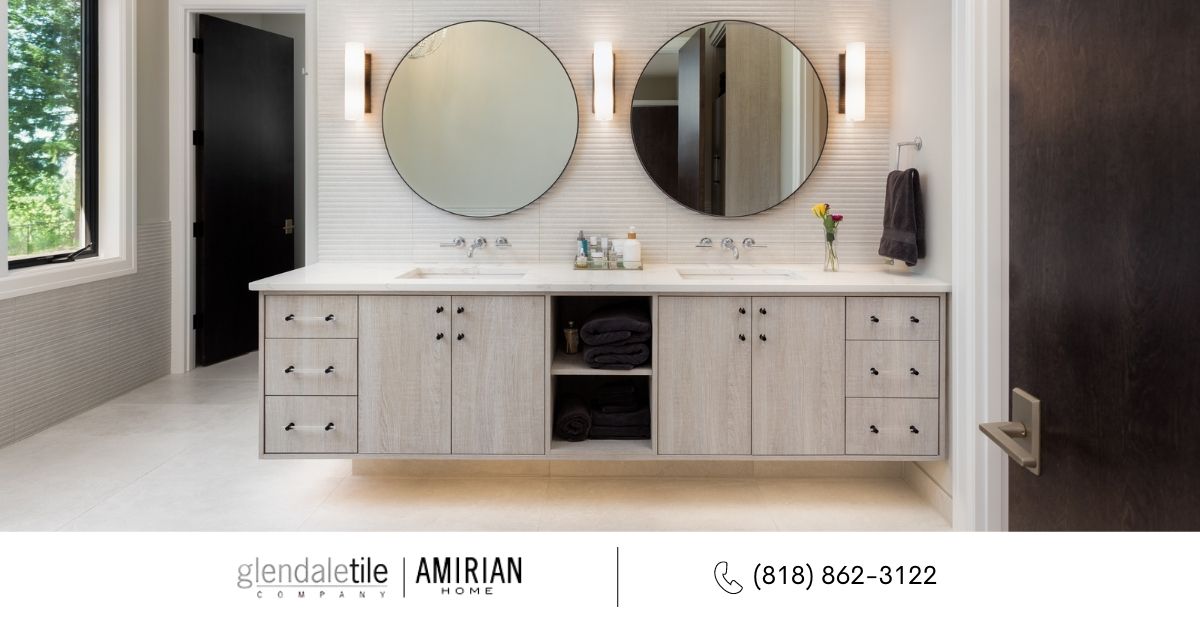 Glass:
Glass tiles are a good choice for the environmentally conscious. These are tiles made from recycled glass and are very durable. They come with different finishes and some are reflective. Glass tiles come in a range of colors and they can be cut to any size or shape. Despite being made of glass, they are difficult to break, scratch or chip.
Ceramic:
Some ceramic tiles are unglazed and aren't suitable for bathrooms or kitchens as absorb water or other liquids. For these areas, you need the glazed type that is easy to clean. Ceramic tiles can be found in a wide variety of shapes, sizes and colors, and patterns. Most tile retailers stock more ceramic tile options than other types of tile.
Porcelain:
Porcelain tiles are the natural alternative to ceramic tiles. The difference between ceramic and porcelain is that for porcelain the baking is longer and at higher temperatures. This has the effect of making the material denser and much more durable, making them harder to chip or scratch.
Mosaics:
An ancient form of decoration, mosaics can be made from any of the tile materials. . They can be made into any form, size, or color although for an authentic look they will be much smaller than regular tiles. You can easily mix shapes, patterns, and sizes, to achieve the effect or design you wish to create.
Vitreous:
This isn't a term that is commonly heard, but it just means tiles that absorb very little moisture; less than 3% is claimed by the manufacturers. That makes this type of tile ideal for both bathrooms and kitchens. They are easy to wipe clean. Many types of this kind of tile are also non-slip and so are good for flooring.
Tiling Advice
If you are considering a décor project and need tiles, you'll need to visit one of the best kitchen and bathroom showrooms in Glendale CA. At Amirian Homes & Glendale Tile are here to help you make an informed choice and find you just what you are looking for. Visit the showroom or contact us through our website.