You may have floor tiles in your house, but what about the outside of your home? Patio floor tiles will set off the surrounds of your home. They will make your patio just as smart and attractive as the inside of your home. As with interior floor tiles they are not only beautiful but convenient too. Patio floor tiles are hard-wearing and weather-proof. Despite their exposure to the elements, they retain their colors without fading for years and years. Here at Amirian Home, we have an extensive range of patio floor tiles in our outdoor tile showroom in Glendale.
Why Have A Patio?
You may have a beautiful garden with lovely lawns and flowerbeds, but a patio will allow you to use your back garden in all weathers without the inconvenience of mud and other debris. They are good areas to place tables and loungers to enjoy the outdoors. Also, they are safe areas in which children can play. For that, it is a good idea to have a stable surface. That's why paving your patio with floor tile creates a solid and level area that will delight everyone. You can even match your outside tiles to those within your home. So, what are your choices?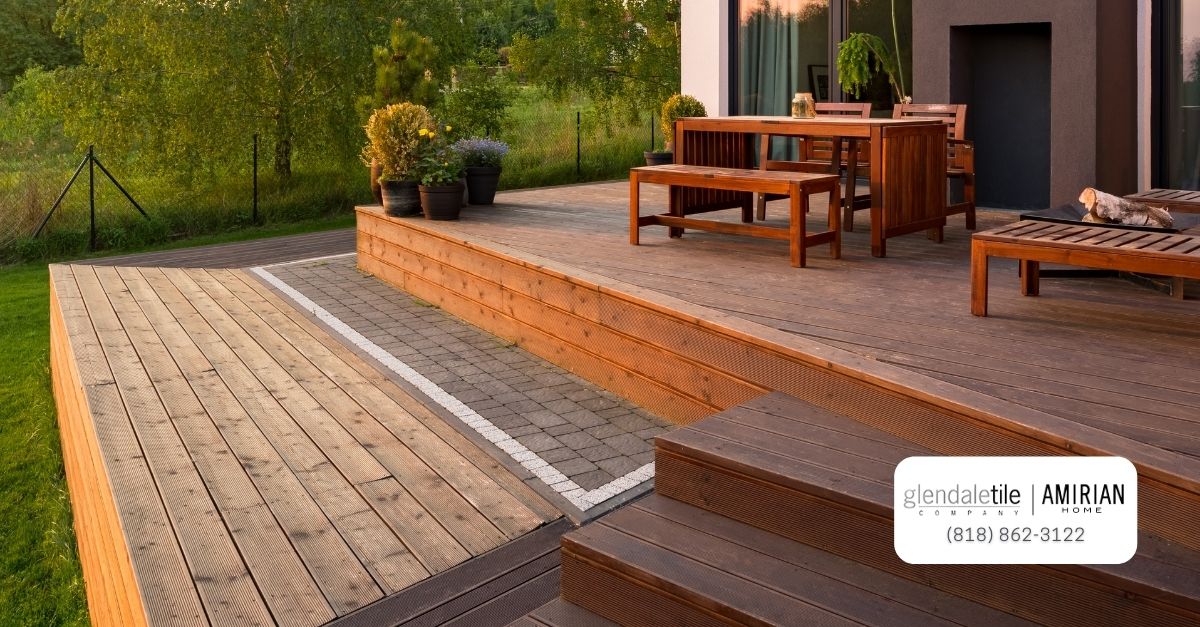 Outdoor Floor Tiles
Some patio floor tiles are of natural cut stone. These tiles retain all the natural qualities of native stone. They are polished to bring out the texture and veins that any stone has within it. Granite is a great favorite. Like the rocks from which they have been quarried, they are tough and very hard-wearing. They can also be shaped to the design which you desire. Other natural stone types are marble and quartz.
Other natural-looking tiles are made of terracotta. Although they are man-made, they give the appearance of being natural stones. They come in earth colors in different shades of brown and red. Although hard-wearing, they are softer than natural stone. As they wear and fade they have an old, timeless look and quality. They have a rustic look. Quarry tiles are also similar, as they are made from a mixture of different clays.
Porcelain or ceramic tiles are man-made. Although they can come plain or maybe with a veined effect, they are usually patterned with designs. There are old, classic designs or more modern ones. It just depends on your taste. The difference between the two is the firing process. Porcelain is baked at a higher temperature than ceramic and therefore denser. Both porcelain and ceramic can be made to simulate wood or real stone. Ceramic tiles are considered softer than porcelain, so porcelain is probably the better choice for patios. Porcelain tiles are also impermeable, which makes them ideal for patios or even paths.
A Lot Of Choices
We at Amirian Home can assure you that you will find what you need in our outdoor tile showroom in Glendale. For more information or queries don't hesitate to contact us through our website.