Have you been trying to find the perfect tile? Do you want something that's innovative but that also fits your business? That's Porcelanosa.
Renowned for its innovative tile designs, it offers a range of tiles that mimic the aesthetics of concrete, stone, and wood. These have the unique ability to replace materials like marble or wood, requiring minimal upkeep. Here at Amirian Home, we offer many of their highest quality tiles, so that your home can look how you want it to.
Wood Wonders
Their wood-look porcelain tiles seamlessly blend the warmth and elegance of natural wood with the benefits of porcelain. Meticulously crafted to replicate the intricate details of natural hardwood, these tiles are virtually indistinguishable from real wood. Additionally, these tiles boast exceptional durability, resisting wear and tear even in high-traffic areas. Their fire-resistant properties provide added safety and peace of mind, making them suitable for both residential and commercial settings.
Classy Concrete Look Tile
A "concrete look" has become immensely popular among those seeking a modern-industrial vibe. Our collection showcases various textures and palettes, providing options to match practically anyone's tastes. Some mimic the raw, pure essence of concrete, while others embody a concrete appearance as they incorporate subtle brown tones. For those desiring a different hue, we have those with a whiter tint, a taupe shade, a charcoal hue, and much more. To add a touch of sophistication to any space, some surfaces resemble hand-troweled plaster or stucco.
Tile Solutions Indoors and Out
These tiles aren't exclusive to your indoor property. Indeed, Porcelanosa extends its innovation to outdoor spaces. Some tiles mimic the look of flagstone without the inherent irregularities in size and color, while others offer a cool tint. We can present you with a variety of outdoor-friendly tiles to explore, ensuring seamless integration of style and durability. That way, you can find the absolutely perfect tile for your specific needs.
Why So Many Choose Porcelanosa Tile
In essence, Porcelanosa's tile collections redefine interior and exterior design paradigms, offering a harmonious blend of aesthetics, durability, and innovation. Whether replicating the raw appeal of concrete, the understated elegance of stone, or the timeless allure of wood, these tiles elevate spaces with their impeccable craftsmanship and versatile applications.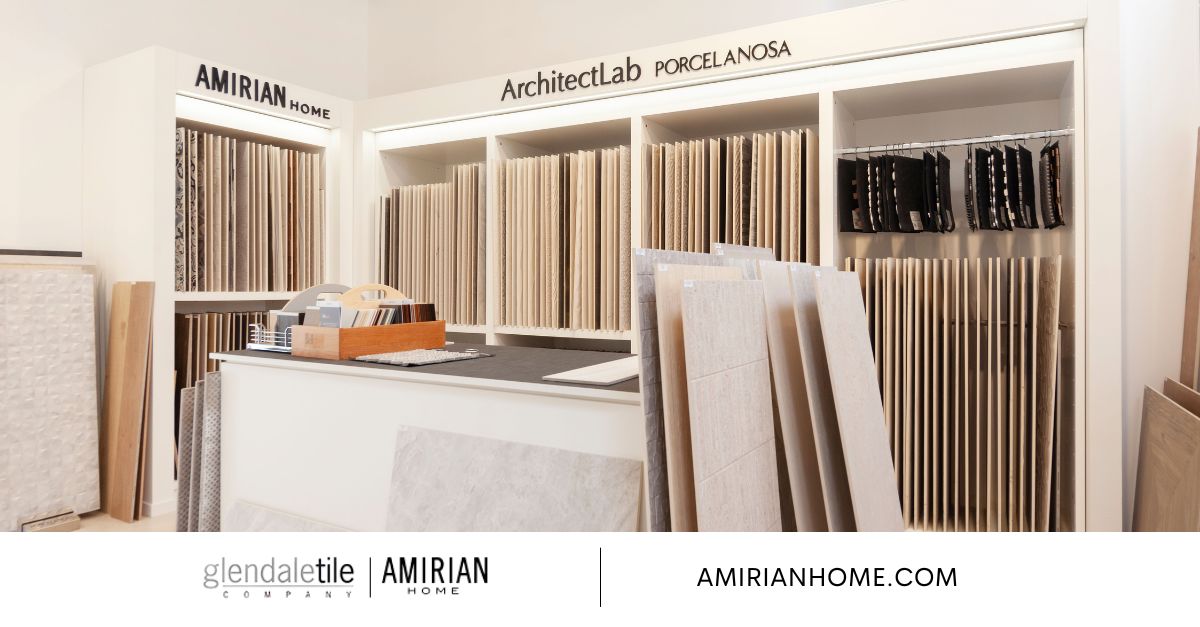 These Tiles and More In Our Showrooms
As you can see, there are many reasons why Porcelanosa has been the tile of choice for so many for so long. That said, there are many other kinds of tile available. Indeed, at our site, you can find a wide range of tiles, all available here at Amirian Home.
If you have any questions about these particular tiles or others, we'll be more than happy to answer them. You can ask us through our site, by calling, or you come to our showrooms as well. That way, you can see these tiles for yourself.
Reach out to us today to discover a world where design possibilities are limitless, and the beauty of natural materials meets the practicality of modern innovation.