Mosaic luxury kitchen tiles are great tiling options. But they are also costly. Do you know the reasons behind it? Let's talk about them here.
Luxury Kitchen Tiles
Design
Mosaic tiles can be a simple way to integrate visual interest into your floor or wall. They are versatile to help you achieve any design goal. The tiles are made from stones. They are costlier than other options because of how difficult it is to manufacture them. They are more expensive than natural stone backsplashes. The reason for this is the high quality being used. Each sheet has a prize.
The Size and Space of Your Kitchen
The cost of the mosaic tiles will depend on the installation area. If you're going to use it in your large kitchen, the price can get higher. The reason for this is that it is difficult to replicate the same design in various sheets.
What's the Cheaper Option?
Although mosaic tiles are generally expensive, there are cheaper options you can choose from. Ceramic or glazed tiles are your best option. They are cheaper than natural stones because of their rarity and complex extraction process.
Size and Shape
They, too, can contribute to the expensive price tag of mosaic tiles. The more mosaic you use, the costlier it can get. If you use mosaic on your kitchen floor, the design should match that of your wall. It's a complicated process. And it's one reason the cost skyrockets. But there are ways to reduce the cost. For instance, you can just choose to install them in small areas.
But no matter how costly they are, the stunning design can easily compensate for the heavy price tag.
What are the Benefits of Mosaic Tiles?
Endure Rough Conditions
This is one of the reasons many luxury kitchens have mosaic tiles. They are constructed in a way that they could endure harsh environments. They have gone through a lot of pressure and immense temperature. Thus, any heat, fumes, or lights won't harm them easily. And if you choose marble mosaic tiles, the high pressure makes them durable. It also gives them beautiful patterns.
Durable
The durability of these tiles is another reason many homeowners choose them over other flooring options. Compared to wood or carpet, mosaic tiles last longer. Carpets, for instance, lose their shine with time. But not mosaic tiles. They are durable. Even if you drop a heavy material, they don't easily show cracks or scratches. And they are also easy to maintain. Simply use a polishing product and the tile will look good as new.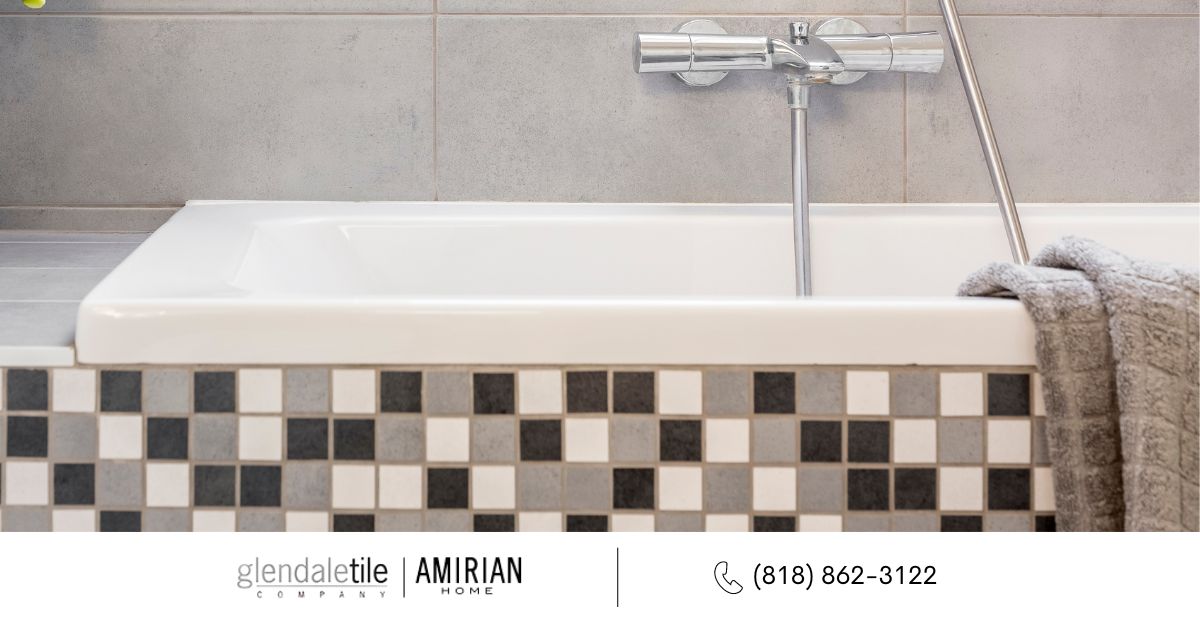 Make Your Kitchen Stunning
Mosaic luxury kitchen tiles can present a variety of vibes. You can opt for any design, from ultra-modern contemporary to Asian-inspired. They are a perfect option if you want your home to look soothing and astonishing at the same time. Find out more about them when you visit our kitchen flooring tiles in Glendale. Or call us here to find out more about how you can visit our showroom: (818) 862-3122.