Do you want the best style for your kitchen? Have you been looking at bathrooms online and can't quite find exactly what you're looking for? It's very convenient to look at kitchen and bathroom designs on your phone. However, there are a number of drawbacks to such an approach, not the least of which is the small size of the screen. We're here to help you to make the best decision for your kitchen and bathroom. To do so, we invite you to visit our Kitchen and Bath Showrooms in San Fernando Valley.
An Authentic Experience
The digital representation of kitchen and bathroom tile can show you what tile looks like. It can give you plenty of information about the tile itself. However, what appears vibrant on a screen may lose its luster in the light of reality. Kitchen tiles, for example, undergo a magical transformation under different lighting conditions, unveiling nuances that even the clearest online images can't quite convey. Showrooms, on the other hand, make it possible to see this firsthand, allowing you to make informed decisions based on your actual experiences.
A tactile connection can be quite important. Touching, feeling, and interacting with what you're interested in in a showroom can provide valuable insights. What might seem like perfect online might lack the "real life" appeal you desire. Showrooms grant you the liberty to make assessments up close, enabling you to envision them seamlessly integrated into your home.
A Wellspring of Inspiration
One of the most remarkable aspects of visiting a showroom is the sheer breadth of possibilities presented to you. Surrounded by professionally curated displays, your imagination may very well be set free. We know that may be the case because we've seen it before. Ideas flourish as you explore designs you might not have considered otherwise. Showrooms act as catalysts, encouraging you to think "outside the box," so to speak.
Experienced Guides Every Step of the Way
A showroom is not just a display gallery; it's a place where you can interact with experts. Our trained professionals, well-versed in design and functionality, are ready to assist you. They're here to do more than just answer questions – they very well could become partners in your vision. From choosing the ideal fixtures to recommending the latest trends, letting you know everything that's out there for your style as well as your budget, these professionals can be invaluable resources.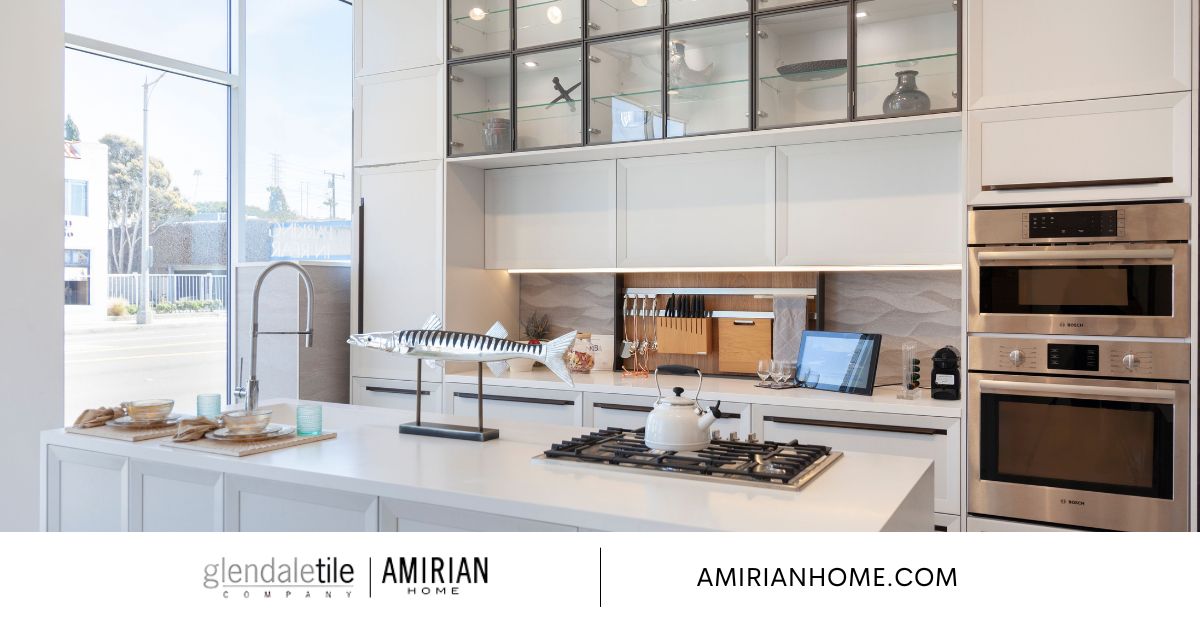 Amirian Home Kitchen and Bath Showrooms in San Fernando Valley
We work to make our San Fernando Valley not just a showroom, but a haven of possibilities. Here, with our professionals, you can start to craft your dream bathroom or kitchen with confidence. Your satisfaction is not just a goal; it is a commitment. Step inside, explore, and let your home renovation adventure begin. Your dream space awaits, and within the walls of these showrooms, it becomes a tangible reality. To set this up, reach out to us through our site or call.