Bathrooms are probably the most purely functional rooms in any home, which often results in them being very minimalistic and, well, dull in terms of aesthetics. While this makes sense from a practical point of view, do you really want the first room you visit every morning to be that boring? Many visitors to our bathroom tile store in Glendale come looking for tiling that gives life to their bathroom. Here are the different ways to do so and the different facts you should take into account.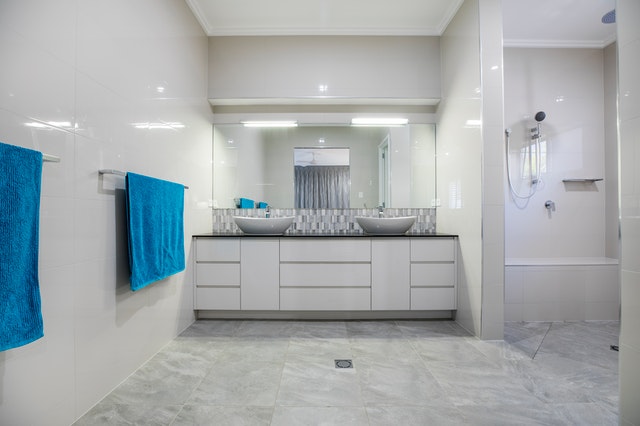 Bathroom Floor Tiles
Tiling your bathroom floor is the first step in creating the space you want in terms of aesthetics. After all, these tiles are going to define the general look, color, and texture of the bathroom. But how will these factors impact the bathroom functionally? Well, the color will be of particular importance when determining the temperature of the bathrooms. The usually smaller windows result in dimmer bathrooms, which is why lighter tiles will help even out the distribution of light. Meanwhile, the texture is very important, for bathrooms tend to be very humid places. You don't want a tile floor that will be slippery when wet, nor do you want it to collect moisture.
Shower Floor Tiles
That humidity factor will be of particular importance when it comes to showers since shower floors will have to be wet most of the time. With you on it, no less. You need to make sure that the shower floor tile has the right grip and surface texture so that it doesn't become a safety hazard while you are showering. At the same time, if you don't want the bathroom to have problems with moisture, then you will want tiles that don't absorb and accumulate the water. Glass tiles, particularly small ones with a lot of grout joints, can be great slip-resistant flooring for showers. Our bathroom tile store in Glendale will have plenty of options for you.
Shower Wall Tiles
With shower walls, you no longer have to worry about the surface being slippery, especially since you want the water to slip down the walls anyway. While you will still have to make sure the tiles don't accumulate moisture, you can use these as an opportunity to complement the rest of the tiling with a material and design that can focus on being mostly aesthetically attractive rather than functional. Tiling the walls of your shower, as well as the walls of the bathroom, can be a great way to ground the whole room on a unified look that lets you play with color, shape, and texture. Bathrooms may be mostly functional rooms, but that doesn't mean that they should look as such.
Bathroom Tile Store in Glendale
At Glendale Tile, the best bathroom tile store in Glendale, we don't just want you to find the tiles that you're looking for. We want you to have everything you need to create the spaces you have always wanted. That is why we make sure to provide you with all the design possibilities you could wish for. You can visit our showroom at 4116 San Fernando Rd and see for yourself. Additionally, you can browse our online catalog to find the tile you are looking for or call us at (818) 862-3122 for more information.